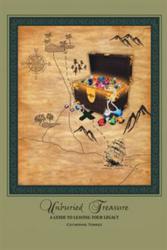 Colleyville, Texas (PRWEB) April 23, 2012
In her new book "Unburied Treasure: A Guide to Leaving Your Legacy" (published by WestBow Press) Christian author Catherine Torrez delivers an easy-to-use guide for recording one's legacy.
"It's a great gift idea for parents and grandparents!" says Torrez, who was inspired by her ministry work to write "Unburied Treasure".
"I used to do nursing home ministry," remembers Torrez. "While I sang to them I would mention that our purpose in life is to serve others. I had many of them tell me privately that there was nothing left for them to do to serve others and that they were just there waiting to die. I truly believe that the minds of our senior citizens are our greatest treasures, especially if they are our relatives. I would tell them that they should take the time to write their legacy – their thoughts, advice, memories, etc. – and pass it on to their children and this can be their new 'purpose' in life. From most of them, I would get this blank look as if they were saying, 'I wouldn't know what to write or where to begin.' That is what inspired me to write this guide book that makes it so easy for anyone to write and leave their legacy."
At 108-pages, "Unburied Treasure" presents a simple and engaging format for both new and experienced writers. Divided into five chapters, the book includes helpful introductions and encouraging writing prompts. It even includes a place for a photo and a detailed family tree map.
"So many people say that they wished that they would have taken more time to truly know a person and hear their advice and experiences before they died," she explains. "This book helps to ensure that it is not too late for us to give this book as the greatest gift one can give."
About the Author
Catherine Torrez practices as a private investigator and is the owner and manager of Stiletto Spy and Company Investigations. She has been a police officer for over 20 years and served as a reserve police officer for the City of Grand Prairie. She later served as patrol officer and worked as a D.A.R.E. (Drug Abuse Resistance Education) officer and school resource officer. She also worked in gang intelligence and criminal investigations. Her latest law enforcement position was her position as the Chief of Police at Cockrell Hill Police Department, located in a small city in the Dallas, Texas area.
Torrez has been a long time member of her church board and a member of the private school board where her children attended school. One of her most recent accomplishment was self-publishing her autobiography, "Tragedy to Triumph". Torrez is a public speaker and an educator on topics covering law enforcement and Christian faith. For more information, visit http://www.CatherineTorrez.com.
WestBow Press is a strategic self-publishing alliance of Thomas Nelson, Inc., the world's largest Christian publisher, and Author Solutions, Inc. (ASI) — the world leader in the popular self-publishing industry segment. Through this partnership, authors benefit from the rich publishing heritage of Thomas Nelson and the speed-to-market advantages of the ASI self-publishing model. Titles published through WestBow Press are evaluated for sales potential and considered for publication under the Thomas Nelson imprint. Thomas Nelson, Inc. continues to "inspire the world" with distribution of products in more than 100 countries worldwide. For more information, or to start publishing today, visit http://www.westbowpress.com or call (866)-928-1240. Follow us @westbowpress on Twitter for the latest news.