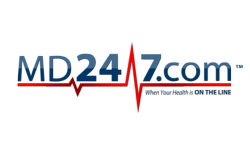 Visit http://www.md247.com.
Tampa Florida (PRWEB) April 20, 2012
Telemedicine Specialist MD247.COM announced this week that it would be inviting participation from members of the discounted healthcare services program on the company Facebook page. The goal of the member participation and engagement plan is to collect real time reviews on telemedicine from interested consumers. MD247.COM wants the reviews of live customers on http://www.facebook.com/md247dotcom to serve as a testimonial regarding the program which allows members to easily talk to a doctor. The consumer participation as a whole serves as one component in a larger plan to very that telemedicine providers like MD247 are not attempting to ripoff consumers.
MD247.COM determined that interaction of the telemedicine program members on the Facebook page was necessary and appropriate after looking at how consumers determine which goods they will purchase online. The MD247.COM Marketing Team recognized that consumers are now visiting Facebook to review the product choices of their friends across the United States. Implementing a canned broadcast system of Facebook posts, ignoring the thoughts and engagement of those participating in the telemedicine program, was considered an improper approach by the MD247.COM marketing specialists. The ultimate goal of the social media plan is to get everyone comfortable enough to participate on the Facebook page located at http://www.facebook.com/md247dotcom.
Seminole Florida based MD247 (MD 247; MD/247; M.D. 247; MD247.COM) provides discounted telemedicine healthcare services nationwide to families, and discounted wholesale telemedicine healthcare to businesses. MD247 has successfully provided 25,000 people the ability to talk to a doctor twenty-four hours a day, talk to a nurse twenty-four hours a day, receive discounted prescription drugs and receive discounted in-person healthcare services. In addition to discounted healthcare services, MD247 provides support to groups supporting the employment of veterans of the United States Armed Services. MD247 services, as well as informational blogs, can be found for review online at http://www.md247.com.