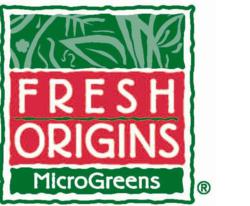 Fresh Origins, is America's leading grower of Microgreens and Edible Flowers.
San Marcos, California (PRWEB) April 22, 2012
Fresh Origins products were prominently featured throughout the West Coast's premier epicurean lifestyle event; Pebble Beach Food & Wine 2012. 75 Celebrity chefs matched with 250 acclaimed wineries created an extraordinary four- day destination on one of the most breathtaking coastline resorts in the world. Throughout the weekend, guests enjoyed intimate access to the pinnacle of culinary and wine talent at wine tastings, cooking demos, and some of the most exclusive, unique dining experiences in the world.
Working feverishly for weeks prior to the event, Fresh Origins and PBF&W Culinary Liaison, Dorothy Maras developed strategic master plan to provide some of the world's most talented and demanding culinary geniuses with everything from Micro Tangerine Lace™ to Oyster Leaf from an amazing array of dazzling Microgreens, Tiny Veggies™ and Edible Flowers for their exclusive menus.
"It is an honor to see our products truly come to life in the hands of the best chefs in the world!" said David Sasuga, founder of Fresh Origins. I'm especially grateful to Chef Johnny Iuzzini for the debut of our latest item; Basil Crystals™ .
Thomas Keller, Daniel Boulud, Masaharu Morimoto, Jacques Pepin, Johnny Iuzzini and Roy Yamaguchi are a few of the world class chefs bringing their inspired culinary tour de force to the exclusive Pebble Beach resort. Fresh Origins products were found on nearly every dish at the event.
About the Company:
Fresh Origins is America's leading producer of Microgreens and Edible Flowers. Combining the benefits of an ideal climate with a deep passion for quality and innovation, Fresh Origins products are sought after by the finest restaurants and top chefs.
David Sasuga and his family operate the 24 acre farm located in the picturesque rolling hills of San Diego County, California where the near perfect weather allows for production and harvest almost every day of the year. Growing Microgreens since 1995, Fresh Origins grows an innovative portfolio of nearly 400 Microgreens, PetiteGreens, Edible Flowers, Shoots Tiny Veggies and related items.
Fresh Origins' primary product remains Microgreens. They have exceptional color, are bursting with flavor and have outstanding keeping quality due to ideal climate and the attention and care given in the growing, harvesting and packing. They are hand harvested to order at the peak of freshness and shipped overnight to arrive the next morning to all parts of the country.
Fresh Origins products are on top of the world's finest cuisine!
Fresh Origins supplies distributors of specialty produce who serve fine dining restaurants and resorts. There are however a few online sources of their products available to private chefs and home cooks.
For more information about Fresh Origins, visit their website at: FreshOrigins.com