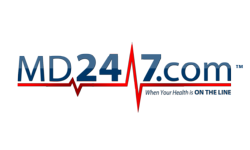 We want to hear from asthmatics.
St. Petersburg Florida (PRWEB) April 21, 2012
Telemedicine Specialist MD247.COM announced on Friday April 20, 2012 that it would be seeking out participation of asthmatics on the MD247.COM Facebook page at http://www.facebook.com/md247dotcom. The ultimate goal of the invitation is to begin the process of building an engaged reader base which has a stake in specific health related issues, and is capable of providing personal anecdotal information about difficulties in seeking treatment. The telemedicine provider hopes to move potential consumers away from checking Scam Informer, and toward the social media and review site Facebook. In recent years, communities and pages dealing with all sorts of issues have found their credibility on Facebook and now is the time for telemedicine.
MD247.COM determined that interaction of asthmatics on the Facebook page was necessary and appropriate after looking at how consumers of health related goods search out information on the internet. The MD247.COM Marketing Team recognized that consumers are now visiting Facebook to review the health information, health tips and potential treatments from social media users worldwide. Implementing a canned broadcast system of Facebook posts about MD247, ignoring the thoughts and engagement of those who have the health problems and use the products, was considered an improper approach by the MD247.COM marketing specialists. The ultimate goal of the social media plan is to get everyone comfortable enough to participate on the Facebook page located at http://www.facebook.com/md247dotcom.
Seminole Florida based MD247 (MD 247; MD/247; M.D. 247; MD247.COM) provides discounted telemedicine healthcare services nationwide to families, and discounted wholesale telemedicine healthcare to businesses. MD247 has successfully provided 25,000 people the ability to talk to a doctor twenty-four hours a day, talk to a nurse twenty-four hours a day, receive discounted prescription drugs and receive discounted in-person healthcare services. In addition to discounted healthcare services, MD247 provides support to groups supporting the employment of veterans of the United States Armed Services. MD247 services, as well as informational blogs, can be found for review online at http://www.md247.com.