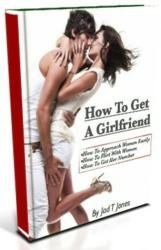 Attract girls naturally
Vancouver, BC (PRWEB) April 23, 2012
Author Jad T Jones is announcing his newly made video on YouTube called "How To Get A Girl To Like You." From book author to video presenter, Jones is beginning to focus on giving his followers more free and helpful dating advice.
According to Jad T Jones, internet users are enjoying video a lot more than reading or listening. People seem to absorb and learn the lessons a lot better when they watch a video presentation on their computers or mobile devices.
In his new video Jad T Jones brought in an actress to help him demonstrate some of the dating advice that he has been teaching. According to Jones, men can learn a lot just by watching him interact with another woman. People tend to pick up a lot of information when they see something demonstrated in front of them.
Jad says that men these days are having a harder time socializing and connecting with women; he thinks this is due to the fact that men are overly attached to their mobile devices. Jad says "When you look around today all you see are people staring down at their phones and iPads; no one talks to each other any more, it's no wonder there are so many lonely people out there these days."
Jad believes that if he can get in front of these men who are all using their mobile devices, then maybe he can convince them to get out of their heads and go start talking to women.
Jad T Jones currently has over 35 videos published on YouTube with over 80,000 views in total. He is constantly adding new videos weekly to create a free online resource of dating advice for men.
Some of his most popular YouTube videos include "How To Get A Girlfriend" and "How To Talk To A Girl You Like For The First Time."
After publishing his book "How To Get A Girlfriend" on Amazon kindle, Jones says his focus in how on creating valuable videos that will change men's lives for the better.
For more information and to check out Jad T Jones's website, go to: http://how2getagirlfriend.org