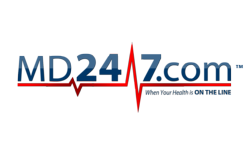 Telemedicine is not a scam.
(PRWEB) April 20, 2012
Telemedicine provider MD247 announced on Friday that it would be officially embracing an open door policy with both print and televised media resources, in order to dispel rumors that the field is rife with ripoff report worthy material. At this time, the company has indicated that it is prepared to introduce any interested journalist to MD247 Founder Thomas Meehan first and then put a telemedicine service provider on display. The pass for information is all access, allowing journalists to learn what they need to in order to understand how telemedicine can help the cash strapped public.
The decision by MD247 to "open the doors" came after the Federal Government released a review Thursday indicating that the new jobless claims in the United States hit an unprojected high of 386,000 new claims for unemployment benefits, for the week ending April 13, 2012. The final number is nearly 16,000 claims more than had been expected, and signals the dimming of hopes that a possible pick-up for jobs creation in April will happen during our remaining eleven days this month. The report of increased jobless claims marked what is very likely going to be a difficult remaining eight months in the year 2012. All of this meant that things are going to be difficult on a national level financially, and creative alternatives to save cash will be a necessity for families. Telemedicine is one of the few ways for a family to accomplish the savings. However, in order for families to understand telemedicine, it was necessary to open the doors and allow the public to see that it is not a scam.
Journalists looking for updates also have the option of following MD247 on Facebook at http://www.facebook.com/md247dotcom.
Seminole Florida based MD247 (MD 247; MD/247; M.D. 247; MD247.COM) provides discounted telemedicine healthcare services nationwide to families, and discounted wholesale telemedicine healthcare to businesses. MD247 has successfully provided 25,000 people the ability to talk to a doctor twenty-four hours a day, talk to a nurse twenty-four hours a day, receive discounted prescription drugs and receive discounted in-person healthcare services. In addition to discounted healthcare services, MD247 provides support to groups supporting the employment of veterans of the United States Armed Services. MD247 services, as well as informational blogs, can be found for review online at http://www.md247.com.