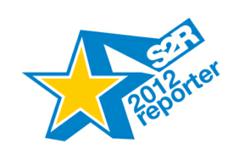 (PRWEB) April 26, 2012
Mozilla Open Badges is a new way of recognising and rewarding skills learnt inside and outside the classroom. Learners earn online badges which display their achievements and 21st century skills across the web, unlocking learning and employment opportunities. The badges system is open source - free and available to all.
DigitalMe is extremely proud to announce that, alongside Disney-Pixar and NASA, we are the UK's only Digital Media and Learning Badges Competition winner with our Supporter To Reporter (S2R) project. We will now develop and test a set of online S2R Medals with our platform partner and joint winner Radiowaves using the Open Badge system.
S2R Medals will recognise and reward the skills and achievements gained by participants in Supporter To Reporter (S2R), a real-life learning programme where young people take on the roles of sports journalists, media producers and mentors.
Multi-award winning and acclaimed for its impact, S2R has provided training and live reporting experiences to over 700 young people. Working at hundreds of events, from grassroots games to major international finals, young people have produced over 10,000 blogs, videos and audio reports.
S2R reporters learn and demonstrate a rich array of competencies, which we wish to assess, endorse and validate through S2R Medals. These range from technical skills like recording, editing, interviewing and social media creation, to transferable skills such as collaboration, meeting deadlines, responsibility and mentoring.
The project is also exploring new ways of peer assessing speaking and listening skills, to feed into mainstream literacy education.
S2R Medals offer three clear learning routes, which participants can progress through at their own pace and according to their own preferences: Journalist, Producer and Coach. Within each role there are Bronze, Sliver and Gold levels to indicate attainment and encourage progression.
Karl Royle from Wolverhampton University Curriculum Innovation department and Anthony Archdeacon from Liverpool Hope University's Education Department are learning consultants to the project, providing advice on programme design and skills assessment.
This is an ambitious project which we aim to offer to thousands of young people and educators over time, extending internationally as an open programme that any school or learning centre can participate in.
Collaborators DigitalMe and Radiowaves are incredibly excited and motivated by S2R Medals, which supports the core missions of both organisations to provide programmes and platforms which support the development and recognition of 21st Century learning skills. The project benefits from our teams' 10 year involvement in project-based learning and the web. It is the culmination of our experience in this field and a key part of our future development.
See students' work on the S2R Website!
Schools can sign up and access free resources and online platform for sports reporting here http://www.radiowaves.co.uk/joins2r
To find out more about the Badges Competition and all it's supporters and partners click here.