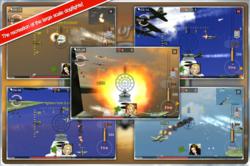 (PRWEB) April 20, 2012
Pictosoft's popular first-person airborne shooting game for iOS, Medal of Gunner, has been a fan favorite for some time. To spread the love, Pictosoft held a ratings and review contest, hosted by http://forums.toucharcade.com. After receiving an impressive number of quality submissions, Pictosoft is announcing winners of the contest.
Third place went to Marc, who received an iTunes gift card in the amount of $20. Marc says his favorite aspect of the game is "the awesome graphics. MOG makes the player feel like they're really airborne."
In second place, Sean Yuan was the recipient of a $50 gift card for Amazon.com. Sean is "thrilled" with his prize, and describes Medal of Gunner "as one of the best World War II games in the Apps Store."
Stephen, chosen by Pictosoft as the grand prize winner, says "This game is fantastic. It's a refreshing new concept for FPS lovers—airborne war at its best!" Stephen will be receiving an iPod Touch 4th generation for his outstanding detailed, helpful review.
About the game:
Medal of Gunner puts the player in the hot seat, manning the guns on a World War II B-17 Air Fortress. The game's visual and audio aspects are designed to capture the spirit of the era, providing would-be heroes with an authentic and exciting game play experience. Flight simulator-like head's up displays and combination tilt based controls are used to locate incoming enemy fighters. Other on-screen controls are utilized for firing and changing to other turret positions.
Realistic 3D animation, complete with inset video of enemies planes taking a nosedive after being hit, brings the experience to life. Period-specific details engage players' imaginations: dated journal entries by the player character referencing battle dates, times, and maneuvers and details from an airman's everyday life, good luck charms and 40s glamour girl pictures that bring luck by upping player stats, and in-game bonuses like vintage ammo boxes and coveted chocolate bars. Great attention to detail is also paid in presenting realistic representations of World War II planes on both sides, so Second World War buffs won't be disappointed.
Medal of Gunner is available in the iTunes App Store now, for $0.99.
iTunes App Store: http://itunes.apple.com/us/app/medal-of-gunner/id456815571?mt=8