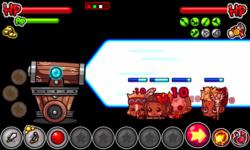 Seoul, South Korea (PRWEB) April 20, 2012
Daerisoft's Shooting Warrior, a freshly launched Android strategy game with elements of tower defense, turn based strategy, and real-time strategy is holding an exciting new event for Facebook fans of the game!
To participate, players must first install the game on their Android phones. Then, fans who click "Like" at http://www.facebook.com/DAERISOFT and leave the last 6 digits of their phone number on the Daerisoft Facebook wall will receive a bonus 2,000 "Cash" (Shooting Warrior's in-game currency). Within the app, fans will also be able to purchase 9,000 "Cash" for only $5.99!
About the game:
Shooting Warrior is named for the ship under the player's command. The ship was initially ordered by the emperor to explore and claim new lands for the empire. After an ocean voyage fraught with peril, the Shooting Warrior has discovered that the islands are not as uninhabited as they'd imagined. In fact, they're inhabited by a bloodthirsty race of savage fighters. To overcome this unforeseen enemy, the Shooting Warrior's resources must be managed with the utmost care.
This is the premise behind the game's focus on strategy, and it works nicely to ensure the game remains fresh and fun. From acquiring new types of soldiers and upgrading heroes in order to master special skills and spells, to improving the ship's cannons via a number of different upgrades, players' tactics must continually evolve and improve to progress. Bright, crisp graphics, plenty of enemy types, and five challenging bosses add to Shooting Warrior's charm.
Shooting Warrior retails for $2.99, a perfect price point for such a multi-layered, addictive game that offers plenty of hours of play. Expand the empire by conquering new lands!
Google Play: https://play.google.com/store/apps/details?id=com.daeri.sww
Google Play (Lite): https://play.google.com/store/apps/details?id=com.daeri.swfree