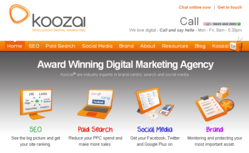 (PRWEB UK) 20 April 2012
This week, Digital Marketing Agency, Koozai, launched their brand new website. After more than 500 hours of hard work, redesigning, rewriting and tweaking the site, it is now more accessible and social than ever.
To complement the site launch, there are a number of brand new features that are going to make a big impact including a responsive design, a faster and better blog and free digital marketing whitepapers. The latest addition to the site is 'Koozai TV', which is a new online learning portal for anyone looking to boost their knowledge of Search Engine Optimisation (SEO), Paid Search (PPC), Social Media, Brand and Analytics. Born out of the idea of sharing knowledge with the industry, which Koozai started doing with their blog in 2006, Koozai TV offers videos devoted to digital marketing.
If that wasn't enough, the agency are also putting the finishing touches to the Premium Section of Koozai TV, which offers exclusive in-depth tutorials for those that want detailed digital marketing walkthroughs and analysis.
The new website also boasts an innovative and unique feature – a responsive design. This means that whatever device or web browser you use, the website will always scale to the right size that suits you. That means the website is 100% PC, Mac, Smartphone and Tablet friendly.
Another notable feature includes a brand new blog, which has been redesigned from the ground up, making over 2,600 blog posts look better and much easier to navigate. Finally, there are also free whitepapers too. The current whitepapers cover areas like Google+, Brand Monitoring, Local Search as well as AdWords Extensions and are designed to help with your online marketing campaigns. Koozai will be releasing one new whitepaper every month.
Managing Director of Koozai, Ben Norman has expressed his excitement of the site launch, "We've worked really hard to get our new site to this stage, and now we want to tell the world about it. We've focussed on making the user experience second to none. With features like the responsive design, the new blog, the whitepapers and Koozai TV, our site isn't just a great place for first time visitors; it's also a hub of information, for prospective clients as well as industry experts and anyone getting started in digital marketing."
"Being at the forefront of this industry is absolutely crucial, and we feel that having a website that is user friendly across all devices will make a huge impact within the industry. We're an agency that likes to have our finger on the pulse, and our new website reflects everything that Koozai is about."
More information about Koozai:
Founded in 2006 by Ben Norman, leading UK Digital Marketing Agency, Koozai, offer a full range of professional digital marketing services for a diverse and expanding customer base. Specialising in Search Engine Marketing (SEO) and Pay per Click Management (PPC), the UK based firm, are able to provide complete solutions for clients from all industries and companies of any size.