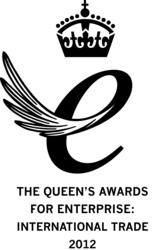 To see our efforts to raise standards in Maths acknowledged by the Queen, the Government and the wider business community is testament to the work that we do, and we are proud to be able to celebrate this success
London, England (PRWEB) April 21, 2012
The renowned Awards, which honour outstanding UK companies, recognised educational innovator Whizz Education's outstanding achievement over the last three years. Winners are selected each year by the Queen, on the advice of the Prime Minister, David Cameron.
The Award supports both state and private schools world-wide in their decision to invest in this learning resource to raise standards in mathematics.
Previous winners of the award include companies such as Motorola, Nissan, and BBC Worldwide Ltd.
Whizz Education stands firm in its ethos of promoting happiness in learning and in numbers. By positively promoting maths, highlighting its benefits and encouraging children to get involved rather than shy away from the subject, Whizz Education has assumed a central role in creating future business people across the world. Targeting international development in India and other key areas such as South East Asia, the Middle East, South America and those surrounding the Caspian Sea including Azerbajan and Tukmenistan, the company has demonstrated its determination to inspire learning across geographical barriers.
Richard Marett, CEO of Whizz Education reflects on the win and explains why UK products designed for the education sector are benefiting from overseas trade: "Significant government funding into UK education has seen the growth of many learning resource providers over the past decade. These resources have been tried, tested and refined over the years. Only those companies with highly effective resources have survived, so today schools across the world have comfort in the knowledge that these resources are proven to be the best.
To see our efforts acknowledged by the Queen, the Government and the wider business community is testament to the work that we do, and we are proud to be able to celebrate this success with our clients."