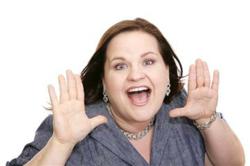 Embrace those curves ladies
London, UK (PRWEB UK) 22 April 2012
What actually is plus size modelling? The country's biggest online model agency directory spills the beans and report a surge in popularity for the heathier looking model.
'If you heard the term 'plus size' and you have no clue about the modelling industry, what would you consider this to mean?' Helen asks. 'It's not what people think,' she laughs and goes on to explain what a particularly unfair terminology this is, to brand all larger models as being 'plus size' nowadays.
'Would you believe anyone over a size 12 to 14 is considered plus size?' she continues,' If you're a model, you are constantly striving to look your best. Unfortunately, for some, this means trying to stay as thin as you possibly can because you think this will get you more work.' She goes onto say, 'There is no doubt that in high end fashion and catwalk modelling, size and shape is very important. But there are so many other types modelling, as we reported earlier in the week.Modelling agencies can see the demand and this doesn't have to be the way things are. With the massive amount of enquiries we have had recently from models considered to be plus size, there definitely seems to be a bit of a modelling backlash.'
Jim Dawson, UK model agencies chief press officer, says, 'a model who is slightly larger than the stereotype can definitely find lots of work available in this day and age. It's the end of an era for the unhealthy looking, waiflike model in the UK.'
UK model agencies already source hundreds of different types of modelling jobs available to models on their own books, as well as on their partner's site, La Mode London. They report that they carry a huge diversity of modelling jobs, release the latest casting calls and pass them straight onto their models. They all different shapes and sizes of models, different heights and different weights at the moment, and plus size models are certainly in demand they say.
'With more and more High Street stores opening up departments for the slightly larger female, plus size models are definitely in demand,' continues Jim. 'It's all about the feminine form and creating a healthy outlook on the modelling industry.' He goes on to say, 'but we don't consider a size 12 to 14 to be particularly large, and hopefully this will send a message out to models everywhere. Maybe size isn't important as much as it used to be in the modelling industry?'
Visit http://www.ukmodelagencies.co.uk and review their section on all different types of plus size modelling.
'To be plus size means to be healthy as far as we are concerned,' say the experts at UK Model Agencies.