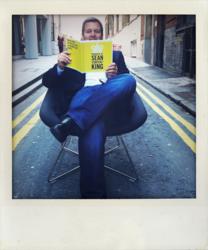 "There are opportunities for new kinds of partnerships between brands and media owners. Publishers are well-placed to maximise this opportunity as they reconfigure their business models" Sean King , CEO, Seven
London (PRWEB UK) 20 April 2012
Sean King, CEO of award-winning multi-platform content agency Seven, spoke at the WAN-IFRA Digital Media Europe 2012 this week, highlighting how the pressures on budgets means big business for publishers as brands look for innovative and cost-effective ways to reach and engage customers.
The annual conference, held from 16-18 April at The Science Museum, London, brought together the most innovative digital media minds in and outside the publishing industry. Three hundred media executives attended this key event for newspaper publishers searching for the latest trends in the digital publishing field.
With some of the most influential media moguls speaking at the event, including a keynote speech from Andrew Miller, CEO Guardian Media Group, UK, King highlighted key issues, including the challenges for brands, how they are responding, the impact of publishers and the new business models. He was joined by Peter Bale, Vice President and General Manager of CNN International Digital, UK; Greg Taylor, UX Strategy Director, EMEA at Tigerspike, UK; Maani Safa, Innovation Director, Somo; Mary Lojkine, Product Director, CNET & GameSpot at CBS Interactive (UK); Alex Dale, Chief Marketing Officer of king.com and Alex Balfour, Head of New Media for the London Organising Committee of the Olympic and Paralympic Games, London 2012.
The session, moderated by Gareth Mitchell, presenter of Click, BBC's programme on the latest digital news and trends, focused on today's hottest digital topics, including digital advertising, Innovative business approaches, paid content, Mobile and tablet platforms,
Speaking at the event, King said: "We are starting to see a lot of clients taking money from media budgets into building owned media. Content is moving from a cost, generated by third parties, into an investment, generated in house, instead of renting media you invest in your own channels."
"For example, Coca-Cola's advertising strategy has moved from 'creative excellence' to 'content excellence. The company now has an online fashion channel which it produces in collaboration with IPC. There are opportunities for new kinds of partnerships between brands and media owners."
"Publishers are well-placed to maximise this opportunity as they reconfigure their business models" he added.
With retailers building content supply chains guided by insights into customer behaviour, kept up to date with customer-generated content, brands are rapidly recognising the importance of content in the retention and engagement of their customers.
Expert in creating intelligent, relevant and effective content across multiple channels, including magazines, websites, social media, interactive e-zines, video, iPhone and iPad apps, Seven has scooped three prestigious awards at the recent APA Awards. They were for Best Consumer Retail Magazine for Sainsbury's Magazine, Best Integrated Solution for Sainsbury's Little Ones for the second year running and Best Consumer Publication (non-retail) for Barometer (Savills) by Blue Door Media, a subsidiary of Seven. Seven was also highly commended for three digital projects. The awards were for its PROJECT magazine iPad app, Sainsbury's Little Ones and the Guardian/Christian Aid Poverty Over campaign.
Watch Sean speak about brands becoming channels and the new publishing model at [WAN-IFRA Digital Media Europe 2012.
– ends –
Contact at Seven:
Shareena Ali
PR
Seven
3-7 Herbal Hill
London
EC1R 5JF
Tel: 020 7775 5549
Email: shareena.ali@seven.co.uk
Notes to editors:
About Seven
· Seven is an award-winning, multi-platform content marketing agency.
· Expert in creating intelligent, relevant and effective content across multiple channels, including magazines, websites, social media, interactive e-zines, video, iPhone and iPad apps.
· Clients of Seven include Aviva, Sainsbury's, CIMA, Grant Thornton, Guardian Media Group, Lloyds Banking Group, New Look and English Heritage.
· For further information, find us at http://www.seven.co.uk or contact Shareena Ali, PR, Shareena.ali@seven.co.uk 020 7775 5549.