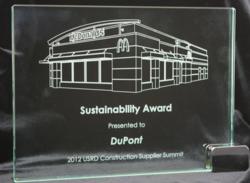 This award is evidence that one of our most important customers does, indeed, appreciate our efforts to become a more earth-friendly business by offering more sustainable products.
Wilmington, DE (PRWEB) April 20, 2012
DuPont Building Innovations, maker of DuPont™ Corian®, was recently recognized by the U.S. Restaurant Development (USRD) department of McDonald's USA, LLC as a recipient of USRD's first-ever Supplier Sustainability Award. Building Innovations was honored for achieving zero landfill status by reducing its landfill waste from 81 million pounds annually to zero. DuPont Building Innovations is a leading supplier of solid surfacing material for McDonald's restaurants throughout the United States.
"In keeping with McDonald's priorities, we developed our new Supplier Sustainability Award as a way to recognize suppliers that demonstrate leadership and provide us with products and services that contribute to the environmental sustainability of our restaurants," said Jim Carras, senior vice president of U.S. Restaurant Development for McDonald's. The award was presented at McDonald's 2012 Construction Supplier Summit. "We congratulate DuPont Building Innovations on being the first company to be recognized with this award for their environmental stewardship."
After three years of focused effort, DuPont Building Innovations earlier this year announced that the business achieved zero landfill status and no longer sends any waste generated by the business from the manufacture of DuPont™ Corian® solid surfaces, DuPont™ Zodiaq® solid surfaces, DuPont™ Tyvek® weatherization products and geosynthetic textiles to landfills.
"We launched our three-year Drive to Zero landfill initiative knowing that being environmentally responsible was the right thing to do for DuPont and something we believed our customers would value," said Timothy P. McCann, president of DuPont Building Innovations. "This award is evidence that one of our most important customer s does, indeed, appreciate our efforts to become a more earth-friendly business by offering more sustainable products. I'm immensely proud of the fact that through our environmental stewardship efforts in completely eliminating landfill -- not just reducing it -- DuPont Building Innovations has created a new standard for surfacing and construction material suppliers."
DuPont Building Innovations brings dynamic science to the discovery and development of innovative products and services for residential and commercial construction. Building Innovations helps residential and commercial builders, architects, general contractors, engineers and their teams determine the best, highest-performing solutions that meet the unique needs of their projects. From Tyvek® Weatherization Systems to DuPont™ Corian® solid surfaces, DuPont™ Zodiaq® quartz surfaces and more, Building Innovations is committed to increasing the performance of building systems and creating more sustainable structures.
DuPont – one of the first companies to publicly establish environmental goals more than 20 years ago – has broadened its sustainability commitments beyond internal footprint reduction to include market-driven targets for both revenue and research and development investment. The goals are tied directly to business growth, specifically to the development of safer and environmentally improved new products for key global markets.
DuPont (NYSE: DD) has been bringing world-class science and engineering to the global marketplace in the form of innovative products, materials, and services since 1802. The company believes that by collaborating with customers, governments, NGOs, and thought leaders we can help find solutions to such global challenges as providing enough healthy food for people everywhere, decreasing dependence on fossil fuels, and protecting life and the environment. For additional information about DuPont and its commitment to inclusive innovation, please visit http://www.dupont.com.
For more information about the Drive to Zero landfill program and sustainability initiatives at DuPont Building Innovations, please visit: http://www2.dupont.com/Surfaces/en_US/sustainable_design/DuPont_Zero_Landfill.html?src=ZeroLandfill_PR_2012_NAR
The DuPont Oval, DuPont™, The miracles of science™, Corian®, Zodiaq® and Tyvek ® are trademarks or registered trademarks of DuPont or its affiliates.
McDonald's® is a registered trademark of McDonald's Corporation and is used with permission.