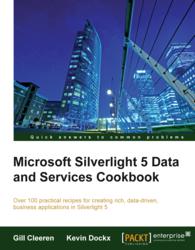 This book is an update to Microsoft Silverlight 4 Data and Services Cookbook.
Birmingham, United Kingdom (PRWEB) April 21, 2012
Packt is pleased to announce the publication of Microsoft Silverlight 5 Data and Services Cookbook, a handful guide which will help the reader to design and develop rich data-driven business applications in Silverlight. Co-authored by Gill Cleeren and Kevin Dockx, this book is packed with practical recipes, illustrating the techniques to solve particular data problems.
Silverlight is a powerful development tool for creating engaging, interactive user experiences for Web and mobile applications. It is a free plug-in, powered by the .NET framework and compatible with multiple browsers, devices and operating systems, bringing a new level of interactivity wherever the Web works.
Microsoft Silverlight 5 Data and Services Cookbook allows developers to use Isolated Storage classes in order to store data locally therefore bringing down the load on their servers. After reading this book, users will be able to build and maintain data-driven applications as well as get an indepth knowledge about WCF RIA Services.
This cookbook will enable the reader to understand sophisticated data access techniques by binding, validating as well as getting data from services into Silverlight applications using Model View ViewModel (MVVM) techniques. Readers can leverage their knowledge in the mobile platform by building data-driven Windows Phone 7 applications.
Some of the chapters emphasized in this book are:
Chapter 1: Learning the Nuts and Bolts of Silverlight 5
Chapter 2: An Introduction to Data Binding
Chapter 3: Advanced Data Binding
Chapter 4: The Data Grid
Chapter 5: Working with Local Data
Chapter 6: MVVM
Chapter 7: Working with Services
Chapter 8: Talking to WCF and ASMX Services
Chapter 9: Talking to WCF and ASMX Services—One Step Beyond
Chapter 10: Talking to REST and WCF Data Services
Chapter 11: Using WCF RIA Services
Chapter 12: Advanced WCF RIA Services
Chapter 13: Windows Phone 7
Packt Publishing has also released and is due to publish other Silverlight 5 books:
MVVM Survival Guide for Enterprise Architectures in Silverlight and WPF: RAW(Expected: May 2012)
Microsoft Silverlight 5 and Windows Azure Enterprise Integration (Published)
Managing Data and Media in Microsoft Silverlight 4: A mashup of chapters from Packt's bestselling Silverlight books (Published)
About Packt Enterprise:
All Silverlight 5 books are Published by Packt Enterprise. Packt Enterprise is a publishing division of Packt Publishing designed to serve the information needs of IT Professionals in the Enterprise space. Packt Enterprise also publishes on Microsoft, IBM, Oracle, Citrix, Java, Amazon, Google and SAP technologies.