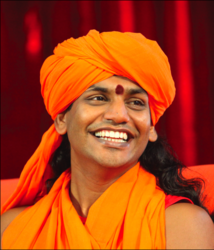 Los Angeles, California (PRWEB) April 26, 2012
Nithyananda Dhyanapeetam, Bidadi India extends an open invitation to all the well wishers and followers of Hinduism across the world to the press meet organized at 9:00 am IST on 26th April 2012. The 292nd Guru Maha Sannidhanam of the Madurai Aadheenam, Sri la Sri Arunagirinatha Sri Gnanasambanda Desika Paramacharya Swamigal, will announce Paramahamsa Nithyananda as the successor of Madurai Aadheenam, the oldest and most ancient Hindu religious institution.
All are welcome to join this live press meet on 26th April 2012 at 8:30 PM Pacific Time from any of the 2 way video conferencing locations worldwide, or through one way live streaming on the internet on Nithyananda TV. Logging into Nithyananda TV is free and open worldwide by registering at (http://nithyananda.tv/wp-login.php).
Madurai Adheenam is the oldest Saivite mutt or aadheenam(mutt) in South India. It is an active centre of Saiva Siddantha philosophy. It is currently headed by Sri la Sri Arunagirinatha Sri Gnanasambanda Desika Paramacharya Swamigal. This position has been passed down through the centuries in unbroken continuity since the Aadheenam's establishment. The adheenam is the hereditary trustee of four temples in Thanjavur District, state of Tamil Nadu India.
Madurai is among the oldest continuously inhabited cities in the Indian peninsula. It is an ancient and prestigious city in the Indian state of Tamil Nadu. The city is widely known as the Temple City, and is often also referred to as City of four junctions (Koodal Maanagar), cultural center of Tamil Nadu(Kalaachaara thalainagar), City of Jasmine (Malligai Maanagar), Sleepless city (Thoonga Nagaram), Athens of the East and The City of Festivals (Thiruvizha nagaram).
Madurai was the capital city of ancient Southern civilization. Madurai's cultural heritage goes back 2,500 years, and the city has been an important commercial center, and has conducted trade as far as Rome and Greece since as early as 550 BCE.
Meenakshi Sundareswarar Temple or Meenakshi Amman Temple is a world famous historic Hindu temple located in the south side of river Vaigai in the temple city of Madurai, Tamil Nadu, India. It is dedicated to Parvati who is known as Meenakshi and her consort, Shiva named here as Sundareswarar(beautiful deity). The temple forms the heart and lifeline of the 2500 year old city of Madurai.
The temple is a significant symbol of art & culture of Hinduism and attracts 15,000 visitors a day, around 25,000 during Fridays. There is an estimated 33,000 sculptures in the temple and it was in the list of top 30 nominees of the "New Seven Wonders of the World". The annual 10 day Meenakshi Tirukalyanam festival celebrated during April–May attracts 1 million visitors.
About Nithyananda:
Paramahamsa Nithyananda is a global leader in enlightenment science. Nithyananda is also the most-watched spiritual teacher on YouTube.com with over 14 million views. He is the author of more than 300 books published in 27 languages. Nithyananda was recently named one of the world's top 100 most spiritually influential personalities of 2012 by Watkins' 'Mind Body Spirit,' the world's largest and oldest esoteric magazine. Clear, dynamic and modern in approach, Nithyananda's teachings are truly transformative.
To learn more, please go to http://www.Nithyananda.org and http://www.youtube.com/lifeblissfoundation