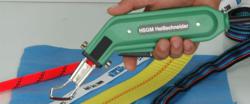 We take such great pride in our Customer Service team and we are excited about Sam joining us!
Duncan, SC (PRWEB) April 20, 2012
HSGM Inc., a Duncan, SC based heat cutting equipment manufacturer, welcomes Sam Cheatham to the helm of their customer service team. Sam brings a wealth of knowledge and experience with him that will make him a valuable asset to the already impressive HSGM team.
With his more than 25 years of industry experience, Sam will bring new ideas and insight into the operations at HSGM. As a shipping and packaging specialist, Sam will fit right in and start producing favorable results from his first day. Among his many professional accomplishments, Sam has also been happily married for more than 20 years.
Personal customer service has always been paramount to HSGM, and Sam Cheatham will continue this tradition of excellence. As Michael Cox, Senior VP of HSGM says, "We take such great pride in our customer service team, and we are excited about Sam joining us!" Sam offers personalized customer service backed by his considerable insight, and he is poised to make an immediate impact as HSGM ramps up to meet the demand from their newly expanded distributor base.
HSGM has experienced phenomenal growth recently and has made several changes to enable more distributors, of every level, to carry their best-in-class heat cutting solutions. Additions to the team, like Sam, will ensure that they are able to maintain their reputation for quality.
Although HSGM is known for their exceptional products designed for a variety of applications, they are most proud of the way they treat their customers. Bringing on an accomplished industry veteran like Sam Cheatham is important in order to maintain their service expectations with their increasing customer base.
About the company:
HSGM GmbH of Walluf, Germany, world-recognized manufacturer of heat cutting equipment and machines, announced the opening of their first company, HSGM Inc., in the United States in January 1998. The offices are located at Hwy. 290 in Duncan, S.C. (USA) and consist of both a sales office and a warehouse/distribution center. They are a source for high quality heat cutter, hot knives, webbing cutter, styrofoam cutting tools, hot wire foam cutting tools, soldering iron tools, synthetic fabric cutter and supplies.They carry a full line of heat cutting equipment, blades, and spare parts for the textile, automotive, agricultural, geo-textile, marine, garment, and sports equipment industries. Additionally, they offer heat cutting equipment for Styrofoam boards used in the building construction trade and small rechargeable soldering guns for use by the electrical and electronics trade. HSGM, Inc. is the exclusive authorized Agent for North America. For more information visit them at http://www.foamcuttingtoolsspartanburg.com and http://www.hsgmusa.com.