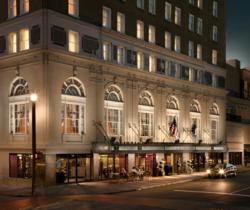 CHARLESTON, SC (PRWEB) April 22, 2012
The Historic Francis Marion, 387 King Street, is transforming the renowned Colonial and Gold Ballrooms with the appointment of new color schemes, lavish new drapery and carpeting. Long known as Charleston's finest venue for prominent social events, wedding and business meetings, the updating of the historic ballrooms continues the commitment of ownership to afford guests' a gracious atmosphere for their functions in this historic Charleston, SC hotel.
The Colonial Ballroom (with 3,600+ square feet) off the grand lobby served as the original formal dining hall when the Francis Marion first opened in February 1924. The hotel offered the finest in modern accommodations, facilities and service. The original ornamental plaster and wood-paneled wainscoting and 20 foot ceilings with decorative tobacco motif crown molding have now been meticulously reappointed with soft pastel colors and finishes representing 21st century refinement. The massive columned-flanked marble fireplace has renewed presence in the historic ballroom with the lighter serene colors.
The Gold Ballroom (with 3,010 square feet) boasts beautifully refreshed gilt crown moldings and egg and dart fresco at its 24 foot ceilings. With varying shades of tan accented with chocolate brown, the ballroom's new colors include a pale blue ceiling ; a nod to the old Charleston's tradition of sky blue ceiling paint keeping the evil spirits away. The original musician's balcony provides a stunning overlook to the Gold Ballroom's new décor.
Planners and guests can expect all the elegance and convenience of a great location in Charleston's historic district without compromising budget. Plus, state-of-the- art audio/visual resources, lighting, wireless, high-speed Internet access and our team of professionals ensure that all of your specialized and technical needs are met.
The Francis Marion Hotel, located in the historic district of Charleston, is a member of The Historic Hotels of America and is listed in the National Register for Historic Places. Known as Charleston's Grand Dame, the Francis Marion has hosted special events and important meetings for over 85 years. The Hotel is locally owned and operated by FMH, L.P.