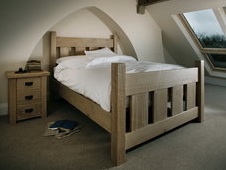 Indigo Furniture are currently in the midst of working on brand new exciting designs to further expand their product range due to ever-increasing demand for their top quality handcrafted designs
(PRWEB) April 23, 2012
The new designs have not yet been released to the public but all Indigo Furniture will say so far is that the pieces will stay true to the Indigo philosophy of "be adventurous". They will also be made to Indigo Furniture's high manufacturing standards, only using the very best materials and traditional woodworking techniques.
Instead of rushing the manufacturing process to generate larger volumes of furniture, Indigo take great pride in the age old way that they produce furniture. It is the vision of the Indigo Furniture founders, school friends Dave Castle and Miles Gregory, which has made all of this possible as well as the hard work of all of the Indigo staff from the sales team and delivery men to the workshop staff who are all based in the beautiful Peak District town of Matlock.
One of the biggest success factors of the company is that Indigo have created an environment which has the perfect mix of traditional values and modern furniture designs. Indigo work tirelessly to produce pieces which will last a lifetime, something which is backed up by their standard 15 year guarantees on all of their pieces, which will be included on all of the new pieces that they are working on. Indigo also celebrate all of the markings and grain patterns in the wood instead of sanding them out meaning that every piece has a sense of individuality and personality about it.
This is especially true for one of Indigo's most loved and famous collections, the Riven Oak Furniture range, which is also set to be expanded with a select number of new pieces. Setting the bar for quality and design for Oak furniture, Indigo have once again used their knowledge of traditional manufacturing techniques and processes to create furniture that is perfect for everyday modern living.
Indigo take great pride that all of their Oak pieces are solid and built to last and one way that they achieve this is by using traditional joints which allow movement and room for the small fluctuations in growth that the Oak has in its lifetime. It is knowledge such as this that means Indigo get the very best out of every single piece of Oak which they spend years drying out and caring for giving the Queen of the Forest, as the oak tree is known, the attention and care it deserves.
All of the new pieces that Indigo Furniture have designed will be available to buy in the coming months and will again raise the bar for both quality and design. Indigo Furniture remain steadfast in their ambition to introduce the United Kingdom and Europe to their completely individual, chunky, handmade furniture which takes pride in being well made and being able to last a lifetime.