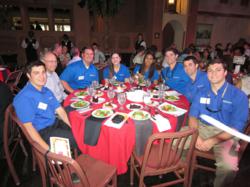 There are a lot of great companies with great people in the Tampa Bay area and we, at ReliaQuest, are proud to be recognized as one of those great companies with great people, says President and CEO of ReliaQuest, Brian Murphy."
Tampa, Fla. (PRWEB) April 23, 2012
ReliaQuest, information security solutions and project staffing firm, was recognized at Tampa Bay Business Journal's Best Places to Work Awards luncheon.
Over 300 companies applied to Best Places to Work in Tampa, Fla. Only 55 were selected as finalists and given the title 2012 Best Places to Work. ReliaQuest could only include its local Tampa Bay employee count of 17 people, but throughout the United States has more than 40 employees. ReliaQuest fell under the category of 'Nearly Big' which includes companies with 10-25 employees.
After being placed as a finalist, ReliaQuest was invited to attend the Awards Luncheon, where each category was ranked first, second and third and then rated overall.
"I would really like to thank Tampa Bay Business Journal for hosting such a great event. We really enjoyed spending time with all the other finalists. There are a lot of great companies with great people in the Tampa Bay area and we, at ReliaQuest, are proud to be recognized as one of those great companies with great people, says President and CEO of ReliaQuest, Brian Murphy."
During the Awards luncheon at Lowry Park Zoo on Thursday, April 19th ReliaQuest was ranked second in the 'Nearly Big' category out of 20 companies and third over all 55 companies.
"I am excited that we ranked so high our first year being nominated. This is just another reason to be proud to work for such a great company like ReliaQuest," says ReliaQuest Associate Jackie Fiore.
Founded in 2007, ReliaQuest, a Tampa, Fla. based company, with offices in Baltimore and Jacksonville, provides information security solutions and project staffing services to government and commercial markets. For more information on ReliaQuest, please visit http://www.ReliaQuest.com or email us at pr@reliaquest.com.