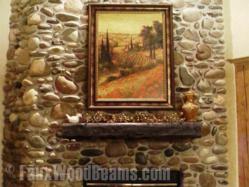 More faux wood beam colors means more options.
Deer Park, NY (PRWEB) April 26, 2012
Faux Wood Beams introduces two new colors for its popular Aspen and Axed designs. Light oak and java provide both light and dark decorating options to go with a wide variety of décor.
"Axed and Aspen are two of our most popular designs so adding two new colors gives our customers more flexibility," said Steve Barron, president of FauxWoodBeams.com.
Throughout the faux beam industry, companies manufacturing products similar to Axed and Aspen styles have predominantly only offered them in basic walnut and unfinished. Last year, FauxWoodBeams.com was proud to unveil Cinnamon as a color choice and now there are two more great options with Java and Light Oak that you'll be hard-pressed to find elsewhere.
"Extreme Makeover: Home Edition" repeatedly chose manufactured beams and mantels from FauxWoodBeams.com, increasing demand for both designs, but the show sometimes faux painted the beams to expand their color options. Adding the lovely tan shades of light oak and the rich tones of java was an obvious choice.
Axed has a rugged appearance that fits in with both rustic cabin designs and classic architecture. Aspen has the look and feel of a real wood beam, without the high cost. Aspen and Axed designs are available as both beams and mantels so matching styles are an option.
Beautiful and Practical
Even better, the faux beams are made of extremely durable polyurethane that isn't susceptible to rot like real wood. Termites have no taste for these faux beams, and they're resistant to weather, moisture and cracking.
Due to the light weight of manufactured beams, they can be a DIY project and in some cases can even be installed by a single person. That's impossible with real wood beams.
"We really try to think of our customers' needs when we develop a new product. Both Axed and Aspen beams and mantels are practical, more budget friendly than wood and thanks to its range of colors, design flexibility," said Steve Barron.
About FauxWoodBeams.com
FauxWoodBeams.com leads the field of polyurethane wood beam products, ceiling panels and architectural products. Its products have been regularly featured on television shows such as "Celebrity Apprentice" and numerous appearances on "Extreme Makeover: Home Edition." FauxWoodBeams.com is a subsidiary of Barron Designs Inc., a family-owned home improvement business operating since 1972. For more information, visit FauxWoodBeams.com.