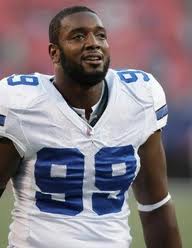 I applaud Second Chance Toys for giving these kids their own second chance with these toys...
New York City, NY (PRWEB) April 23, 2012
New York Giants Defensive Lineman, Chris Canty will join Second Chance Toys, a non-profit that rescues and recycles gently used plastic toys, for a special Earth Week toy delivery to PS/MS 108 in East Harlem on Monday, April 23rd at 11:00 a.m.
Canty will help deliver the recycled toys, and a message of hope, to school children in the community, in a ceremony at PS/MS 108 at 1615 Madison Avenue and 109th Street.
Thousands of toys were donated by other kids in the New York Metro area and collected at New York Kids Clubs in Manhattan, Bronx, and Brooklyn during Earth Week. 1-800-Got-Junk will transport the collected toys to the East Harlem school, where Canty and the children will be waiting.
Well known for his commitment to providing educational resources to underserved children through his own foundation's efforts, Canty was thrilled to join forces with Second Chance Toys.
"Toys provide important learning experiences for kids – and they make them happy," said Canty.
"No child should be deprived of that. I applaud Second Chance Toys for giving these kids their own second chance with these toys – and for caring about the environment they will grow up in."
Second Chance Toys has rescued more than 100,000 non-biodegradable plastic toys from ending up in our landfills and has donated these toys to children whose families are struggling to meet even the most basic needs.
"Just to see the smiles on the faces of these children when the toys are carried into the facility is going to make this Earth Day celebration a very special one," said Alan Goldberg, spokesperson for Second Chance Toys. "And then for them to meet Chris Canty – this will be a day they never forget."
"Our business is dedicated to recycling and reusing, so it's extremely rewarding to know that our trucks and drivers can be used to ensure that reusable toys end up with deserving kids." said 1-800-Got-Junk franchise owner, Cameron Robinson.
Second Chance Toys, founded in 2006 to recycle gently used plastic toys for children in need, is an award-winning 501c3 non-profit that has been recognized for the waste-need solution it provides to local communities.
1-800-GOT-JUNK?, a full service junk removal company that makes the ordinary business of junk removal exceptional, is committed to recycling and donating to charity.
The New York Kids Club, now in its tenth season, is New York's premier children enrichment center renowned for creative and innovative kids classes, day camps, birthday celebrations, and special events!