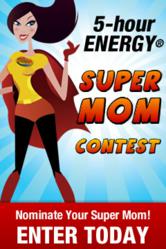 FARMINGTON HILLS, MI (PRWEB) April 20, 2012
In honor of Mother's Day, 5-hour ENERGY® is unveiling a new contest on April 20 to honor mothers everywhere, called the "5-hour ENERGY® Super Moms" contest. Ten lucky moms will be named Super Moms and will receive a free 12-pack of 5-hour ENERGY®.
5-hour ENERGY® fans are encouraged to nominate a mom, step mother, godmother, grandmother or any other mother figure to be a "5-hour ENERGY® Super Mom." In order to enter, participants must fill out a form online or on Facebook stating in 400 words or less why their favorite "mom" is worthy of a 5-hour ENERGY® boost along with a photo.
When nominating Super Moms, applicants must follow these specific "5-hour ENERGY® Super Mom" guidelines:

Submissions must be received on or before May 13, 2012
All entries must provide contact information and completed release forms
Applicants must be 18 years of age or older to participate
Applicants agree to contest rules by submitting contest entry forms
About 5-hour ENERGY®
5-hour ENERGY® is a liquid energy shot that provides hours of energy and alertness. It contains a blend of B-vitamins and amino acids, zero sugar and four calories. It is available at retail outlets in the United States and Canada as well as throughout the U.K., Ireland, the Netherlands, and Spain.