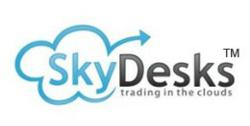 SkyDesks is a Revolutionary VPS Designed for Forex Traders
(PRWEB) April 24, 2012
Sheldon Gardner, President of SkyDesks, Inc. announced the premiere of SkyDesks' new website http://www.skydesks.com. SkyDesks offers a unique Forex Virtual Private Server (VPS) that is configured in minutes. SkyDesks offers subscribers free membership as well as a 2-week no obligation free trial. SkyDesks VPS includes a selection of installed Expert Advisors (EAs) which trade demo or live Forex accounts.SilverBullet and the popular JTA Evolution EA are two of the premium EAs offered. This month SkyDesks also introduced a new premium EA called SuperPipPirate (SPP).
SuperPipPirate is a hedging EA that also works well in domestic Forex trading. SPP comes in two flavors- SPP and SPPMax. This EA is easy to operate in that there are no variables to be set by the trader. SPPMax trades 6 popular currency pairs and is recommended for maximum safety and performance. SPP and SPPMax work in conjunction with SkySpy, a SkyDesks innovation, available free to all subscribers. SkySpy provides important details about the trader's account, such as minimum lot size, to increase safety and reduce the possibility of account configuration errors. This is an additional safety factor for traders new to Forex.
Skydesks is a patent-pending VPS hosting solution for automated, reliable, and uninterrupted FOREX trading. SkyDesks uses state-of-the-art Expert Advisors (EAs) and the Metatrader 4 Platform to safely and confidently make your Forex trades on a unique virtual machine (VM) cloud server. The new SkyDesks website provides a convenient and powerful desktop style interface. The website contains a rich set of dashboard tools for configuring a Forex broker and EA within a few minutes, downloading and uploading files, and creating multiple subscriptions within one account.
The SkyDesks VPS:
o Makes Forex Trading Easy and Reliable.
o Configures a VM automatically and in minutes.
o Installs a Premium EA and a Broker's MT4 automatically.
o Monitors a VM 24/7 for uninterrupted operation and uprecedented reliability.
o Assures safety from Windows viruses, spyware, trojans and other cyber threats.
Windows Server has been the market leader in Forex VPS for many years. However, Windows browsers are susceptible to viruses and other cyber threats. The SkyDesks VM is not based on virtualization. SkyDesks VM lives on a Linux cloud server and runs only MT4 to eliminate cyber threats. SkyDesks patent-pending monitoring system checks the performance of a VM every few minutes 24X7. If a problem is detected, the VM is automatically rebooted. This process is transparent to the Forex trader whose VPS is always available.