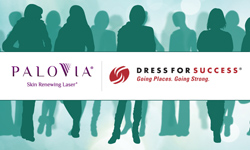 Burlington, MA (PRWEB) April 24, 2012
A primary goal of the PaloVia Skin Renewing Laser is to help women look and feel their best. To further its support of women, the PaloVia brand has teamed up with the international, not-for-profit organization "Dress for Success."
In addition to the corporate sponsorship, the PaloVia brand is also a Mentor Sponsor of The Power Walk for Dress for Success in New York City. To celebrate this new affiliation, the PaloVia brand will give away two PaloVia lasers – one by Dress for Success to the highest individual fundraiser at the New York City event and another via the PaloVia Facebook page where people can pledge their support and be entered for a chance to win a free PaloVia Skin Renewing laser! And the PaloVia brand will donate $1 to Dress for Success Worldwide for each entry in the Facebook promotion.
"We are delighted to be a 'Mentor Sponsor' of The Power Walk for Dress for Success in New York City," said Nancy Teumer, Global Marketing Director for the PaloVia brand. "Empowering women to look and feel their best is what we're all about, and this event is a great way to support that philosophy, as well as the health and wellness initiative established by Dress for Success."
The Power Walk for Dress for Success is the only international 5k walk that is dedicated to the promotion of active, healthy lifestyles for women. The walk is being held in forty cities and five countries. The New York City event will take place on Saturday, May 12 at 10 a.m.
Dress for Success promotes the economic independence of disadvantaged women by providing professional attire, a network of support, and the career development tools to help women thrive in work and in life. Like Dress for Success, the PaloVia brand works to level the playing field for women. In the past, laser skin rejuvenation was only available in a doctor's office. Now, with the PaloVia Skin Renewing Laser – the first FDA-cleared, at-home laser for treatment of wrinkles around the eyes – more women than ever can enjoy the clinically proven benefits of laser skin treatments in their own homes, on their own terms.
About Palomar Medical Technologies
The PaloVia Skin Renewing Laser was developed by Palomar Medical Technologies, Inc., a leading manufacturer of cosmetic lasers for dermatologists and plastic surgeons.
For nearly two decades, Palomar has revolutionized laser skin treatment. In the 1990s, a global team of Palomar laser physicists and esteemed dermatologists began experimenting with non-ablative fractional laser treatments – a new technique that kept the outer layer of skin in place ("non-ablative") and treated only a small portion ("fraction") of the skin with each application of light. In 2000, Palomar filed a patent application on this fractional laser technology and began selling systems to doctors for use on their patients. In 2009, after years of clinical studies, Palomar received FDA clearance for the first at-home fractional laser clinically proven to reduce fine lines and wrinkles around the eyes.
For more information about the PaloVia laser, winner of the 2011 Allure Breakthrough Award, visit palovia.com.
PaloVia Customer Care:
1-866-PALOVIA (1-866-725-8642)
info(at)palovia(dot)com