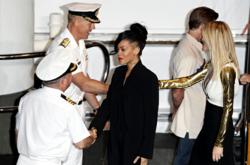 (PRWEB UK) 23 April 2012
Today the online retailer FancyDressShack.co.uk announces an increase in sales of their navy military fancy dress costumes. The reason for the increase in sales is due to the release of new film 'Battleship', which features Hollywood star Liam Neeson and international pop sensation Rihanna.
'Battleship' is a film about a US Navy ship finding a deadly enemy out at sea that threatens to destroy the whole world. The crew must defeat the battleship with the help of more battleships, and save the Earth from the attack.
Many fans came to their local cinema dressed as naval officers to get into the film, and bring some fun and excitement into the queue of people waiting to get into the movie theatre. FancyDressShack.co.uk customers called up in their hundreds to secure their costume for the film's UK premier.
FancyDressShack.co.uk proved a popular choice due to its range of naval officer costumes which have been perfect for 'Battleship' fans to show their enthusiasm. Fans young and old took the opportunity to dress up for the occasion. Charlotte Woolerton, Customer Service Manager of FancyDressShack.co.uk said, "It was a big surprise to have so many fans choose our costumes, we think it's great that people are so excited about the launch of a new film."
Customers of FancyDressShack.co.uk have been sending in pictures of themselves in fancy dress at the movie premier.
The film is centred on gargantuan alien machines that are trying to destroy the human race, and the battleship that discovered them and is now responsible for stopping them.
FancyDressShack.co.uk is an online retailer of fancy dress costumes and party goods. They have a great range of movie costumes that are constantly updated for fans of the latest films, and they can deliver the very next day for customers in a rush.