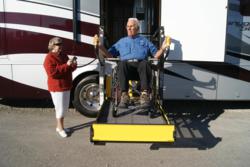 we are thrilled to see Newmar come out with this floorplan and design features exclusively for the physically challenged.
Ft. Myers, FL (PRWEB) April 24, 2012
North Trail RV Center of Ft. Myers, FL presents the first of its kind, luxury, class "A", accessible,motorhome designed from the ground up specifically for the physically challenged. The Canyon Star 3911, by Newmar Corp. is a first of it's kind and once again the innovators of Newmar have raised the bar for RV manufacturers.
The 2012 Newmar Canyon Star 3911 offers a seamless travel experience minus the chore of unsightly modifications and design challenges for those with disabilities. And they do it all without sacrificing beauty and luxury.
Starting with the 48' remote controlled, power, chair lift that allows easy wheelchair entry and exit. The lift holds up to 1500 pounds, and works effortlessly and quietly to provide smooth, stress-free access.
With wide open spaces throughout and 30" of aisle space during travel mode (with the slide-outs pulled in) guests are able to fully enjoy the benefits and the convenience of class "A" motorhome travel. This means that the restroom, bedroom and kitchen areas can still be used and accessed without having to put the slide rooms out.
The bath area features a 48x37" roll in shower with a seat and grab bars as well as grab bars around the open, under the bowl lavatory for ease of use.
Switches, control panels, mirrors, and cabinets have also all been lowered for access. Large, open spaces behind the passenger seat and also in front of the queen sized, master bed are design features that Newmar implemented after generous input from some of their guests with disabilities, that better serve their needs.
'Needs' along with 'wants' are what the luxury motorhome industry is all about though, and Newmar lives up to its stellar reputation by loading the Canyon Star 3911 with all the bells and whistles that RV'rs desire. Corian countertops, residential, stainless steel, Whirlpool refrigerators, Sony LCD flatscreens, Sleep Number pillow-top beds, Ultralux leather furniture, custom crafted, Amish cabinets, satellite tv and radio and much, much more.
"We are absolutely thrilled to see Newmar come out with this floorplan and design features exclusively for the physically challenged." says Alan Erp, Vice President and owner of North Trail RV Center. "We are proud to carry all of the Newmar models, but this one truly is special."
North Trail RV Center is the world's largest Newmar dealer and has been for the last 8 consecutive years.
For more information, please visit http://www.northtrailrv.com or call 1-888-819-9973
About North Trail RV Center
With coast to coast locations, North Trail RV Center is South Florida's largest RV dealer. With over 50 million dollars of inventory in stock, North Trail RV Center features the best rv manufacturers in the country such as Newmar, Tiffin, Fleetwood, American Coach, Winnebago, Keystone RV, Pleasure Way, Itasca and Jayco. For over 25 years, the locally-owned, family business has grown to employ over 170 poeple in 3 locations throughout South Florida. With major facility expansion plans for 2013 in Ft. Myers, North Trail RV Center will continue to be South Florida's number one, full-service, rv dealer for many years to come. 'Like' us on Facebook at http://www.facebook.com/northtrailrv
Media Contact:
Tim Lowry, Marketing Director
1-888-819-9973
http://www.northtrailrv.com
###