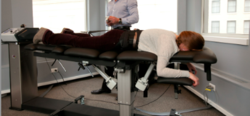 I am excited to have the opportunity to extend this offer to patients who have never been treated in this nature. You will be amazed at the amount of pain relief that you can experience.
Chicago, IL (PRWEB) April 23, 2012
Chicago Chiropractor, Dr. Michael Kauf, recently received certification for Spinal Decompression Therapy. This treatment is a non-surgical solution for neck pain, back pain, sciatica, disc injuries and more. Spinal Decompression utilizes computerized targeted traction that gently stretches the spine, relieving pressure from the discs, joints and muscular tissues, while enhancing the body's natural healing process. It also helps to improve blood flow and important nutrient exchange to the injured area.
This new treatment that Dr. Kauf is offering to his patients is incredibly exciting as sciatica and low back pain are two of the most common conditions that people suffer from. "Having the capability and certification to offer Spinal Decompression Therapy is invaluable. I will now be able to offer the most advanced, non-surgical treatment to eliminate a patient's back pain, neck pain and sciatica," says Dr. Kauf. The therapy session lasts for about 20 minutes and patients can expect to feel relief in less than 10 minutes in their troubled area. Patients receiving Spinal Decompression Therapy can expect to feel a mild stretch on the back and hips which is therapeutic and also relaxing. Dr. Kauf has been a practicing Chiropractor for over 15 years and is located in Chicago's Gold Coast neighborhood. He just moved into a beautiful new space at 1 East Delaware Suite 401; Chicago, IL 60611. To make an appointment or inquire further about Spinal Decompression call 312-337-4004.
Since Spinal Decompression Therapy might be a new or unknown treatment to some people, Chicago Chiropractic is offering a free first time examination and decompression treatment. This is valued at over $350. Dr. Kauf states, "I am excited to have the opportunity to extend this offer to patients who have never been treated in this nature. You will be amazed at the amount of pain relief that you can experience."
Chicago Chiropractic is open Monday through Saturday and is located at 1 E. Delaware Place, Suite 401, in downtown Chicago. Call to make an appointment and begin to feel your best! Chicago Chiropractic specializes in all types of back pain, shoulder and neck pain, sciatica, muscle pain as well as sports & personal injuries. Feel free to visit http://www.chicago-chiropractic.com for more information on services, experience, reviews and research. Most insurance accepted.
__title__ Chicago Chiropractic - CHIROPRACTOR CHICAGO]