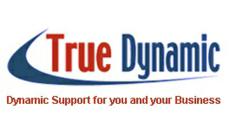 True Dynamic is committed to provide dynamic support to you and your business.
London, UK (PRWEB UK) 23 April 2012
True Dynamic aims at helping small businesses and freelancers by providing tailor made services at a reduced rate. Accountancy service poses as a necessity, though small businesses tend to avoid getting in touch with one in order to minimise cost. However, accountancy firms are capable of helping small businesses to cope with the recession.
Small businesses and freelancers are provided a backing by True Dynamic, through a few measures. It provides service at a diminished professional fee and comes with a helpful consultancy service as well to aid small businesses to cope with the recession. True Dynamic also aims at maximising profit and minimising tax liability in this era of economic downturn. The free initial meetings are arranged without any obligation.
True Dynamic is committed to aid small businesses and freelancers with the following:
Accounts and General Bookkeeping: True Dynamic offers a range of comprehensive accounting services to help you and your business operate in accordance with relevant reporting regulations. They provide full statutory year-end financial statements, as well as monthly and quarterly management accounts and assistance with the preparation of budgets and projections. They also can assist you with your general bookkeeping duty.
Conformity with government legislation: Legislative landscape undergoes changes frequently and in the process is becoming significantly complicated. True Dynamic helps small businesses to determine appropriate business structure, assist with its setup as well as filing corporate and personal tax returns.
Tax planning: Apart from standard tax reporting, True Dynamic also specialises in providing effective tax planning advice. This service proves to be exceptionally helpful for small businesses and freelancers who may not be aware of many tax legislations that enable them to reduce their overall tax liabilities.
Management consultancy: True Dynamic`s consultants can assist your business by advising on different aspects of business and the best ways to manage, operate and improve business processes, using proven methods and tools which your company can adopt and continue to use.
About True Dynamic: True Dynamic is a well established and highly reputable accountancy firm. It specialises in providing proactive and quality service that aims at helping clients to achieve all essentials, properly and well on time. Tailor made solutions are provided by True Dynamic to fulfil clients needs. For more information on our services please visit our website at http://www.truedynamic.com or call us at 020 7702 4100.