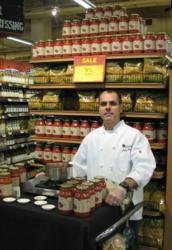 Mount Kisco, NY (PRWEB) April 22, 2012
Chef/Owner of Cucina Antica Foods, Neil Fusco, is currently seen in stores in New York and Texas sampling his products in grocery stores. In the company's early days, Neil wore many hats in the business: sourcing, producing, packing, delivering, selling, sampling, etc. Over the years, as the company has grown, Neil has been able to shed some hats, but will always make time to sample his sauces in store. This allows him the opportunity to be face to face with customers, telling them how the sauce is produced, details about the ingredients and sourcing as well as hearing any feedback from customers. Also, he always has great recipe ideas to share, from simple dishes to more elaborate meals.
Born in Italy and raised in New York, Neil has the accent that accompanies such an upbringing. The customers in Texas always get a kick out of it.
Cucina Antica Foods Corp. is a family owned and operated company located in Westchester County, New York. For over 14 years, Cucina Antica Foods Corp. has provided families with all-natural, fresh sauces as well as donations and support for families in need. Recently an organic line of dressings and ketchup has been launched. For more information, please visit http://www.cucina-antica.com.