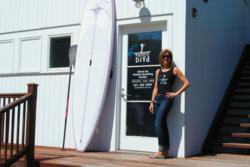 Mothers' Day brings together everything we love and celebrate. Even if you are not a mom, I'd love for all women to join!
East Hampton, NY (PRWEB) April 26, 2012
"Mothers' Day is our perfect holiday," says Gina Bradley, owner of Paddle Diva, Long Island's premiere SUP instruction and stand up paddleboard tours outfit. "It brings together everything we love and celebrate: strong, inspirational women -- which all of our mothers are to us -- women's fitness, the chance to show women of all ages and body types how easy and empowering it is to learn stand up paddling, while gliding along the waterways and inlets of the beautiful East End of Long Island, watching for birds and signs of spring. What mother wouldn't want to spend her day this way?"
Last year, a dozen lucky moms (and a few husbands, sons and daughters) enjoyed an hour and a half Paddle Diva lesson/SUP tour out of Maidstone Park Beach. Those with no prior experience on a stand up paddleboard (SUP) were welcomed with a lesson and some assistance from Paddle Diva instructors, as will be the case with this year's tour. The popular "SUP Dog" SUP Yoga class (taught by Kama Deva's Jessica Bellofatto) will also be on offer, with participants starting with some poses on land and then moving to the sea for a leisurely beginner-to-intermediate SUP tour. "We stop to enjoy the quiet inlets and maybe even try a few easy yoga moves on the boards," said Bradley.
This year, Bradley and her Paddle Diva team are especially excited about Mothers' Day as it coincides with the opening of the new shop in the Shagwong Marina -- the only SUP center in the Hamptons with direct water access. "After spending two years exploring all the bays and waterways of the East End, I am delighted to have found a place to call home. The Shagwong Marina is a newly refurbished facility that offers clean, brightly lit bathrooms, a private beach for relaxing, shady grassy areas with picnic tables, and incredible sunsets over Three Mile Harbor. It's such a perfect place to spend Mothers' Day. Even if you are not a mom, I'd love for all women to join!"
Paddle Diva will continue to operate "mobile units" at various launch sites throughout the Hamptons, as they have for the past three summers. But as SUP grows in popularity, Bradley felt it important to provide one central location where new clients have a safe and easy place to learn stand up paddling.
"Not everyone who signs up their mom wants to participate, so having the amenities in the Marina is great. The Paddle Diva center includes a shop where clients can browse our SUP boards and our 'Diva Picks'," -- clothing and accessories that Bradley has found to be the best of breed for surf and swim. "And for those who want to explore the area, the Center is just a short drive to the late Jackson Pollack's art studio, a real working blacksmith's shop, bountiful farm stands, and miles of quite bay beaches."
Paddle Diva will be giving away a gift to the first 15 mom's who are registered! Click here to sign up!
Interested in the SUP Dog SUP Yoga class? Register here.