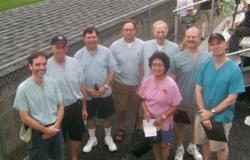 The members of docappella have such a variety of abilities, interests and talents and they combine those abilities, interests and talents to make incredible music.
Williamsport, PA (PRWEB) April 20, 2012
An important aspect of high quality healthcare is doctors working together in harmony. About 10 Susquehanna Health (SH) physicians have taken that concept literally by creating a musical interlude they have ingeniously dubbed "docappella."
The idea for this a cappella ensemble began about 14 years ago and grew from the realization that each physician had previously performed in their respective college glee club. Although this musical group of medical professionals is admittedly leaderless, Rheumatologist Dr. Keith Shenberger credits Dr. William Peck with "getting the ball rolling." According to Lycoming County Medical Society Executive Director Bonnie Mahoney, docappella began with just four physicians, but has noted up to 18 members including specialists in cardiology, gastroenterology, internal medicine, rheumatology and palliative care.
"We are cast-offs from college glee clubs. You know, like the manager of the basketball team who never got to play. We are living vicariously through our college years now," explains Dr. Shenberger. In actuality, SH Home Care & Hospice Medical Director and docappella member Dr. Alexander Nesbitt previously lent his vocal talent to the Princeton Nassoons and Dr. Shenberger was a member of the Dartmouth Aires—an a cappella group that recently placed second in The Sing-Off musical competition. Dr. Timothy Heilmann, Williamsport Family Medicine Residency associate director, is one of the group's notable tenors and Dr. Carmen Spinney, Jersey Shore Medical Associates, Avis, is the sole female and soprano.
Docappella's four-part musical stylings include barbershop and patriotic pieces and feature amusing melodies such as Robert Shaw's "Grandfather's Clock" and a medically altered version of "Aura Lee" (perhaps better known as the tune to "Love Me Tender"). "Our repertoire is eclectic, but basically we always sing the same songs over and over because none of us has time to learn any new ones," quips Dr. Shenberger. "We're like a church choir," he explains, "we perform more than we rehearse." The group, on several occasions, has rendered a rousing rendition of "The Star-Spangled Banner" at the Historic Bowman Field in Williamsport.
In 2009, docappella performed for the Pennsylvania Medical Society's House of Delegates when Susquehanna Health's Dr. Daniel Glunk became PAMED president. In 2010, according to Mahoney, the group also performed for Little League International when the World Health Organization presented Lycoming County with Pennsylvania's first Safe Community award.
"The members of docappella have such a variety of abilities, interests and talents and they combine those abilities, interests and talents to make incredible music. Their sound is amazing, their ability to blend is phenomenal and they are so creative," says Mahoney, who serves as "road manager" for the group. What is even more amazing is that these doctors find time to perform together given the nature of their work, the fact that they can often be on call and that many serve in other leadership capacities within the community. The group performs only when eight members are able to be present, according to Mahoney, so a larger membership enables some doctors to "fill in the gap" for other doctors when they are unable to participate.
The stylings of these seasoned (forty-something to seventy-something) physicians cater to a more mature crowd. The group's most recent performance was on the porch of an historic Williamsport home for the 2011 Victorian Christmas tour. According to Dr. Shenberger, it is rare for docappella to return for a repeat performance.
Fortunately, they measure their successes not by the quantity of performances or the localized venues, but by the mere satisfaction obtained through crescendos and syncopations. "At our age, there are few thrills left. They are either prohibited medically or physically impossible," explains Dr. Shenberger. "We try to get our excitement were we can, and singing can be very exhilarating."
About Susquehanna Health
Susquehanna Health is a three-hospital integrated health system including Divine Providence Hospital, Muncy Valley Hospital and Williamsport Regional Medical Center located in northcentral Pennsylvania. Serving patients from an 11-county region, Susquehanna Health is a healthcare leader and has been recognized at the national and state levels for quality of care. Susquehanna Health offers a wide array of services that include cancer treatment, heart and vascular care/heart surgery, neurosciences including neurosurgery, orthopedics, urology, OB/GYN, gastrointestinal services, behavioral health, physical rehabilitation, home care, long term care, assisted living and paramedic/ambulance services.