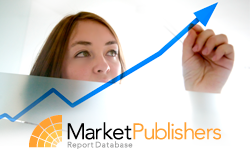 London, UK (PRWEB) April 20, 2012
During 2007–2011, Russian online retail sales recorded a CAGR of 18.92%. Rising internet penetration, recent improvements in the country's telecommunications infrastructure and overall economic development are expected to bring key growth opportunities within the Russian online retail sector going forward. As a result, a host of companies are switching from merely using the internet for online marketing to establishing online retail platforms. However, the Russian online retailers continue to face challenges such as supply chain optimization and the implementation of effective warehousing processes.
New market research report "Market Opportunities and Business Strategies in Online Retail in Russia" worked out by BRICdata has been recently published by Market Publishers Ltd.
Report Details:
Title: Market Opportunities and Business Strategies in Online Retail in Russia Published: April, 2012
Pages: 64
Price: US$ 1,950
http://marketpublishers.com/report/consumers_goods/other_cg/market_opportunities_n_business_strategies_in_online_retail_in_russia.html
The report provides extensive research and in-depth analysis of the online retail industry in Russia. Its scope comprises:

historical values for the Russian online retail industry for 2007–2011, along with forecast figures for 2012–2016;
top-level analysis of the overall online retail industry, as well as product category values for both the 2007–2011 review period and the 2012–2016 forecast period;
granular analysis on growth drivers, operational, marketing and pricing strategies, challenges and future trends in the Russian online retail industry;
profiles of top online retail companies in Russia along with case studies.
Companies mentioned in the report include: Ozon.ru, Utkonos.ru, 003.ru, zakazhi24.ru, vasko.ru, Top-shop.ru, KupiVIP.ru, and Sapato.ru
Report Contents:
1 Executive Summary
2 Russia Online Retail Market Environment
2.1 Macroeconomic Fundamentals
2.2 Development of Russian Retail Industry
2.3 Retail Industry Dynamics
2.4 Regulatory Framework
3 Market Size and Growth Potential of Russian Online Retail Channel
3.1 Market Share of Online Retail Channel
3.2 Market Size and Future Prospects
3.3 Market Size by Region
3.4 Market Size by Product Category
3.5 Online Share of Total Retail Sales by Product Category
3.6 Market Attractiveness Benchmarking
3.6.1 Russian online retail vs. other countries
3.6.2 Russian online retail vs. emerging economies
4 Strategies Adopted by Russian Online Retailers
4.1 Operational Strategies
4.2 Marketing Strategies
4.2.1 Social media marketing strategies
4.3 Market Segmentation and Targeting
4.4 Pricing Strategies
4.4.1 Price setting
4.4.2 Other charges
5 Case Studies
5.1 Business Strategies of Russian Leading Online Retailer – Ozon.ru
5.1.1 Approach to using online space by Ozon.ru
5.1.2 Security and payment options offered
5.1.3 Organization and layout
5.1.4 Online tools to help browse and compare products
5.1.5 Online loyalty schemes
5.1.6 Mobile version
5.2 Utkonos.ru Online Hypermarket
5.2.1 Approach to using online space
5.2.2 Organization and layout
5.2.3 Online tools to help browse and compare products
5.2.4 Online loyalty schemes
5.2.5 Security and payment options offered
5.2.6 Mobile version
5.3 KupiVip
6 Emerging Consumer Trends in Russian Online Retail Channel
6.1 Online Buying Behavior – Product Preference
6.2 Online Shopping Preference by Gender
6.3 Online Buying Preference by Region
6.4 Preferred Online Payment Methods – Cash on Delivery (COD) Still Dominates
7 Consumer Attitudes And Online Retail Dynamics in Russia
7.1 Price
7.2 Convenience
7.3 Services
8 Key Growth Drivers
8.1 Business Drivers
8.1.1 Increasing cost of real estate
8.1.2 Entry into online retail channel supports geographical expansion and helps to increase customer base
8.1.3 Use of webpage space for advertising allows companies to generate revenue
8.2 Infrastructure Drivers
8.2.1 Growing internet penetration
8.2.2 Increasing mobile and 3G subscriber base
8.2.3 Increasing use of social media
9 Challenges
10 Future of Online Retail in Russia
11 Profile of Russian Online Retailers
11.1 Ozon.ru
11.1.1 Ozon.ru – Company overview
11.1.2 Ozon.ru – Key facts
...
More new research reports by the publisher can be found at BRICdata page.