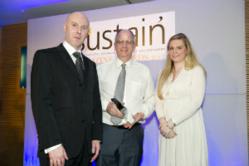 (PRWEB UK) 22 April 2012
Balfour Beatty Engineering Services (BBES) Modular Systems + picked up the prestigious Manufacturing Award at the Sustain Magazine Awards 2012, – with the judges describing the off-site manufacturing facility as 'a great example of how most construction will be done in the future… today!'
On Tuesday 20th March 2012, at the Hilton Hotel in Canary Wharf, more than 300 sustainability leaders from the construction industry gathered to celebrate another year of exceptional achievements. BBES Modular Systems + facility was awarded the fiercely-contested Manufacturing Award In recognition of its continued commitment to the sustainable off-site manufacturing of mechanical and electrical systems.
"We are delighted to accept this award just 10 months after the official opening of our state-of-the-art manufacturing and assembly facility in Wednesbury," said Bob Francis, Director of Modular Systems +. "It has enabled us to deliver our lean construction philosophy, reduce the number of hours needed on site, improve lead times and provide safer and more productive working environments – as recognised by this prestigious award from sustain' Magazine."
BBES' award entry focused on the launch of its 117,000 sq ft Modular Systems + facility in Wednesbury, West Midlands – the result of a significant investment. Aiming for increased efficiency at every point of the manufacturing process of mechanical and electrical systems, Modular Systems + provides outstanding levels of safety, productivity, quality, cost control, programme certainty and sustainability to its partners and customers.
The largest of its kind in the UK, the facility focuses on the production of mechanical and electrical systems; including packaged plant rooms, corridor modules, service modules, riser modules, and modular electrical systems. Its modular systems have been supplied and installed in a wide and varying range of projects – from public sector, retail and commercial buildings to new healthcare facilities and student accommodation.
The Sustain' Magazine Awards for Sustainability, Business and the Built Environment continues to celebrate the high hopes and hard work, commitment and creativity, radicalism and rigour, inspiration and perspiration of all those achieving distinction and success in the field of sustainability.
Now in its fourth year, the quality of entries at the event continues to improve every year. The victory for Modular Systems + in the manufacturing category is recognition that the company's manufacturing processes are some of the most sustainable in the industry.