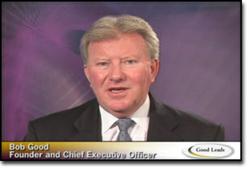 Matt Cookson, Ex. Dir. of the NHHTC, in thanking Bob Good, stated "We are appreciative of Good Leads corporate sponsorship of the NHHTC which makes event programming like our EOY Awards possible."
Salem, NH (PRWEB) April 24, 2012
Good Leads®, provider of technology sales leads, is a Corporate Sponsor for the New Hampshire High Tech Council Entrepreneur of the Year Awards. The 24th annual EOY event will be held on Monday May 7, at 5:30 pm at the Radisson, Center of New Hampshire in Manchester, NH. The evening event attracts more than 300 tech industry leaders from across the region and includes networking, a dinner, the keynote address from Boston Globe columnist Scott Kirsner and this year's Entrepreneur of the Year awards ceremony.
Established in 1988, the NHHTC EOY Awards Dinner serves as the signature event for the Council. To date, the Council has recognized more than 50 New Hampshire entrepreneurs for their significant contributions toward advancing technology and demonstrating leadership, ingenuity and innovation. From newspaper columns to blogs to books, the speaker Scott Kirsner has a passion for writing about innovation and entrepreneurship. His "Innovation Economy" column appears each Sunday in the Boston Globe, and he has been a regular contributor to Fast Company, BusinessWeek, Variety, and Wired.
Matt Cookson, Executive Director of the NHHTC, in thanking CEO Bob Good, stated "We are appreciative of Good Leads continuing corporate sponsorship of the NHHTC which makes contemporary event programming like our EOY Aawards and our distinguished speakers remarks possible."
About NHHTC: Founded in 1983, and originally known at the New Hampshire High Technology Council, the NH High Tech Council has been the voice of technology and innovation in the State of New Hampshire for well over 25 years. As a member-driven organization focusing on advancing innovation throughout New Hampshire, we help drive NH's economy by encouraging research and technology-based industrial development. http://www.NHHTC.org
Good Leads® is a premier provider of sales and marketing, lead generation and outsourced business development activities for technology centric firms on a global basis with significant emphasis in the U.S. and Canada. Bob Good is CEO and Founder of the 10 year old firm. Good Leads specializes in executive level lead generation and appointment setting with international emphasis on supporting external corporate sales teams. Good Leads corporate headquarters is in Salem, NH with sales offices in Massachusetts, Maine and California. Good Leads can be contacted at 866 894-LEAD. http://www.GoodLeads.com.