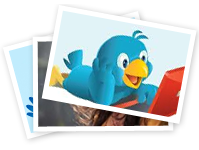 (PRWEB) April 20, 2012
Tweetwood launched the new feature which allows users to explore photos by Twitter Celebrities. Along with the photo galleries for individual celebrities, users can explore the photos grouped by country or category and share them with their friends on social media.
Tweetwood also launched the top twitter celebrities lists which group the top celebrities in many interesting ways. Users can view the top celebrities by influence or by number of followers. They can see which celebrities tweet the most and which are mentioned most frequently by other celebrities.
Tweetwood is the biggest celebrity portal based on Twitter. It has sub portals for US, UK, Cananda and Indian Celebrities on Twitter. With 3000 Twitter celebrities and counting, Tweetwood covers almost every celebrity present on Twitter.
The categorization of celebrities based on the country and area of expertise makes it easy to track one's favorite celebrities on Twitter. Whether a user wants to follow the Stars on Twitter or Politicians on Twitter, Tweetwood is the best tool for that.
Along with all the standard functionality users see on Twitter, Tweetwood has a number of unique features that enhances the user experience many folds. Twitter Conversations makes it easy for users to track and share twitter conversations between celebrities. Twitter trends gives users a quick glimpse of what is trending among celebrities. Trends on Tweetwood are different from Twitter trends as they are based on celebrity tweets which are a better measurement of popularity.
Tweetwood is developed by Manusis Technologies. Manusis specializes in building scalable, interactive and social web sites and mobile applications. The applications developed by Manusis are cross browser, cross platform and uses the best coding practices and Extreme programming guidelines. Manusis is responsible for building the back-end from scratch for some of the big sites like Gdgt, Designbyhumans, MyCelebrity to name a few. The agile Manu framework and state of the art ManuCMS helps in rolling out big standards compliant sites quickly.