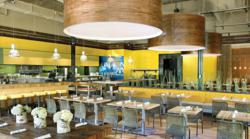 We made the decision to use only the finest and freshest ingredients in our restaurants...which is how we came across the sea buckthorn berry.
Salt Lake City, UT (PRWEB) April 23, 2012
Sibu Beauty recognized for offering the most nutrient-dense variety of sea buckthorn to be found anywhere on the planet, has been selected by True Food Kitchen Executive Chef Michael Stebner and Dr. Andrew Weil as a key ingredient to be used in globally-inspired recipes served at all of the True Food locations.
Michael Stebner, Executive Chef - True Foods Kitchen Restaurants, explained, "We made the decision to use only the finest and freshest ingredients in our restaurants. We continually look for the best whole, natural foods available; which is how we came across the sea buckthorn berry. This true miracle berry has been revered for centuries in ancient eastern for literally thousands of internal and topical issues. The tart berry pulp also serves as an excellent ingredient in natural refreshment drinks plus cooked entrees and appetizers. Our search for the finest sea buckthorn lead us to Sibu RAW which is by far the most superior variety of sea buckthorn puree available on the market."
Sibu Beauty Founder and CEO, Bruce McMullin added, "We are thrilled for Sibu RAW to be a part of the True Food Kitchen group of restaurants. We are confident that our sea buckthorn berry, harvested annually high in the Himalayan Mountains, is the most nutrient-dense variety that offers over 190 bio-active ingredients including the most significant amount of Omega 7 of any food source. To be included in the selections offered by True Foods is a true testament that we have met our goals of providing the best this amazing berry has to offer for improved health and wellness."
Sibu Beauty has an entire range of ingestible and topical wellness and beauty products based on the sea buckthorn berry. The entire line is 100% natural, cruelty-free and contains no gluten, wheat, dairy, parabens or sulfates. It is sold online at http://sibubeauty.com and also available at thousands of retail locations throughout the US and Canada.
About Fox Restaurant Concepts
Launched in 1998, Fox Restaurant Concepts is the parent company of 12 unique concepts located in Arizona, Colorado, Kansas, Texas, and California: Blanco Tacos + Tequila (Scottsdale, Tucson); Bloom (Denver, Scottsdale), Culinary Dropout (Scottsdale); The Greene House (Scottsdale); Modern Steak (Scottsdale); NoRTH (Denver, Kansas, Scottsdale, Austin, Tucson, Phoenix); Olive & Ivy Restaurant and Marketplace (Scottsdale); Sauce (Chandler, Mesa, Phoenix, Scottsdale, Tucson); The Arrogant Butcher (Phoenix); True Food Kitchen (Newport Beach, Phoenix, Scottsdale, Santa Monica); Wildflower (Tucson); and Zinburger (Phoenix, Tucson). The concepts range from upscale casual and fast casual to mixed food service and retail operations. Fox Restaurant Concepts are all unique and fresh in cuisine, style, service and design and are dedicated to offering the highest quality food, with exceptional service in a stylish and comfortable atmosphere.
About Dr. Andrew Weil
A world-renowned leader and pioneer in the field of integrative medicine, Dr. Weil is a best-selling author and editorial director of DrWeil.com, the leading online resource for healthy living based on the philosophy of integrative medicine. Dr. Weil's books include the national bestsellers: Spontaneous Healing; 8 Weeks to Optimum Health; Eating Well for Optimum Health; The Healthy Kitchen, and Health Aging. He also authors the popular Self Healing newsletter and is the Director of Integrative Health & Healing at Miraval Life in Balance Resort. Dr. Weil is an internationally-recognized expert for his views on leading a healthy lifestyle, his philosophy of healthy aging, and the future of medicine and health care. As a columnist for Prevention and TIME magazines and a frequent guest on Larry King Live, Oprah, and the Today Show, Dr. Weil provides valuable information and insight on how to incorporate conventional and complementary medicine practices in ones's life to optimize the body's natural healing power.
About Sibu Beauty
Sibu Beauty (http://www.sibubeauty.com) was introduced in early 2009 to provide customers worldwide with a comprehensive approach to beauty from the inside out and outside in. The Sibu Beauty product line is based on a powerful and distinctive whole food source, the sea buckthorn berry. This super food is backed by hundreds of scientific studies demonstrating its success at addressing a variety of consumer needs including improved skin tone and texture, healthy aging and digestive health and noticeable improvements in cardiovascular fitness, energy and weight loss.
About Sibu, LLC
The products of Sibu Beauty - a subsidiary of Sibu, LLC (http://www.sibu.com), and "The Sea Buckthorn Company" - are made with only premium sea buckthorn berries exclusively grown and harvested for the company in the Himalayan Mountains of Tibet. The company's meticulous harvesting process results in a more hardy and potent berry. Sibu's proprietary manufacturing process maximizes the efficacy of sea buckthorn raws, producing one of the most nutrient dense sea buckthorn products available on the market today. The Tibetan villagers who are responsible for harvesting Sibu Beauty's sea buckthorn berries benefit from a fair trade agreement, safe and healthy working conditions and environmentally responsible practices that ensure they will enjoy the benefits of the sea buckthorn harvest for years.