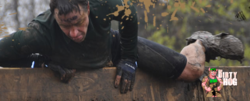 "Forget what you know about marathons, mud runs and the like."
Laurinburg, N.C. (PRWEB) April 24, 2012
Spring's mix of warm weather and rain showers guarantees ideal conditions for this season's hottest trend in athletics – mud-drenched extreme adventure races. Popping up around the U.S this year in all forms and all fashions, the sport's contestants typically slosh through squishy conditions to test their grit and party hard afterwards.
But The Dirty Hog makes even the dirtiest mud run look easy.
Now less than two weeks away, the new event's super-mucky obstacle course will take today's mud run to an entirely new level. Through partnerships with a MTV reality star and a military representative, the event delivers a unique race design and an after-party unlike any other – all to benefit Operation Homefront, a 501(c)(3) organization supporting the families of deployed service members.
"Forget what you know about marathons, mud runs and the like," said The Dirty Hog Founder James Bonanno. "We don't fall under that category – it's already being done very well by others. Consider this event a giant field party with barbeque, bands, extreme entertainers and beer, all set to the backdrop of these creatively-insane challenges. It's kind of like a massive pig-picking meets a post-apocalyptic carnival. It's a great time, and somewhat of a shocker."
Organizers for the one-of-a-kind event are spending hundreds of hours digging trenches and building obstacles, launching participant training programs and logging last-minute registrations for the intense 12-mile slop fest to be held in Laurinburg, North Carolina on May 5, 2012.
In addition to the trend-worthy extreme obstacle race, organizers also are making final preparations for a reality TV Webisode. Production crews will focus on the trials and tribulations this degree of intense competition is sure to generate.
Dirty Hog organizers plan to select the largest team to showcase in the show, a documentary-style production to be promoted via a widespread media campaign. The event is still accepting team registrations, and officials look to announce the featured crew on May 2.
The Dirty Hog offers a 9 to 12 mile obstacle course for die-hard adventurers, or a lighter 5-mile trek. The event also hosts a "Piglet Run," designed for children, as well as a spectator package for those who simply want to watch. Following the obstacle challenge, event grounds will convert to an overnight campout.
Registration for The Dirty Hog costs $107 per person for the 9 to 12 mile challenge, $65 per person for the 5-mile challenge. Military, police and fire personnel receive a $10 discount.
The fee includes event participation, a Dirty Hog T-Shirt and "Hog Tag," free beer at the finish line, lunch and a free hug from a "Hog Girl." Participants may register as individuals or a team. Spectator tickets are available for $15 in advance and include one beverage ticket. To register or secure training tips for The Dirty Hog, visit dirtyhog.com.