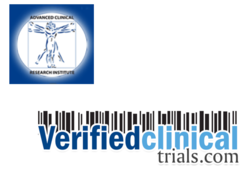 Verified Clinical Trials has created a superior system along with a comprehensive local and national network of clinical sites that participate in this cooperative effort
Anaheim, CA (PRWEB) April 23, 2012
Anaheim Clinical Trials (ACT), a recognized center of excellence for clinical trial research for special patient populations and ethno- bridging trials, protects the safety of study participants and data quality by using the Verified Clinical Trials (VCT) clinical trial database registry system. If a potential clinical study participant attempts to enter into simultaneous multiple trials or reenter into another trial prematurely, Verified Clinical Trials provides a successful tool to identify and stop dual or premature clinical trial enrollment.
"Having an effective system in place that ensures all study subjects comply with applicable rules and regulations affirms Anaheim Clinical Trial's commitment to safety and quality," said Patrick McLaughlin, Executive Director. "Verified Clinical Trials has created a superior system along with a comprehensive local and national network of clinical sites that participate in this cooperative effort." "Verified Clinical Trials allows us to use the system from any location in the facility," adds Sarah Park, Director of Administrative Operations. "The system is incredibly fast and easy to use. We are excited about our partnership with Verified Clinical Trials."
"Verified Clinical Trials is the largest cooperative registry and network in North America, and the only clinical research volunteer database registry and network that includes both early and late phase clinical trials. As a member, Anaheim Clinical Trials joins other sites dedicated to quality clinical research," said Dr. Mitchell Efros, CEO. "We are delighted to have Anaheim Clinical Trials on board with us."
About Anaheim Clinical Trials:
Anaheim Clinical Trials (ACT) is an adult and pediatric Phase I-IV clinical research center with full-service CRO capabilities, located in southern California (Anaheim). In addition to healthy volunteers, ACT has been particularly successful in enrolling special patient populations, such as renal- and hepatic-impaired patients, and Japanese subjects for ethno-bridging trials. Our certified Principal Investigators have the expertise and interest in a wide variety of therapeutic areas, including GI, pain, metabolic/inflammation, infectious diseases, and respiratory. ACT has been recognized by our customers for excellent quality research, timeliness, high patient enrollment, and ease of doing business. For more information, please visit our website at http://www.act-trials.com.
Anaheim Clinical Trials Contact
Linda Gundaker, MBA, MT(ASCP)
Executive Director of Business Development
Phone: (610) 937-2006
lgundaker(at)act-trials(dot)com
About Verified Clinical Trials:
Verified Clinical Trials is a forward thinking company developed by experts active in the clinical research community to proactively improve research subject safety and data quality in clinical research trials. Verified Clinical Trials halts dual enrollment in clinical trials and defines itself as the world's leader in the field of database registries in clinical trial research. Verified Clinical Trials is the only clinical research database registry designed specifically to enhance the quality of both early and late phase trials and has the scalability to reach all sites nationally as well as on a global level. Verified Clinical Trials offers numerous other value added services to the clinical research site, CRO, and Pharmaceutical Sponsor, that prove invaluable with regards to financial and legal issues and liabilities. For more information, RSVP to visit http://www.verifiedclinicaltrials.com.
Verified Clinical Trials Contact
Kerri Weingard ANP
Chief Operating Officer
Phone: (516) 998-7499
kweingard(at)verifiedclinicaltrials(dot)com