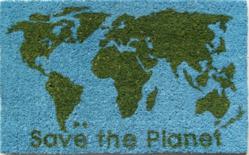 Mt. Laurel, NJ (PRWEB) April 20, 2012
Earth Day reminds everyone of how special planet Earth really is. For 2012, Entryways presents two mats specially designed for the environmentally conscious. Greet your visitors with a reminder to "Go Green" and "Save the Planet."
Entryways doormats are handmade by local craftsmen in Kerala, the most southwestern state in India. This vital cottage industry provides a fair and steady source of income and supports a sustainable community. The doormats are hand woven with coir that comes from the husk of coconuts and is 100% natural and renewable. The dyes used for Entryways doormats are fade resistant and eco-friendly. Each mat is also hand-stenciled.
Every Entryways' floor and doormat is designed by an artist, including those that are commissioned from individual artists as well as original designs created in the Entryways studio. The design, materials and workmanship combine to deliver doormats that are appealing, useful and durable—epitomizing functional artistry for the home.
With its large and ever expanding product line, Entryways offers rich variety, especially in design. The artwork ranges from funny and whimsical to elegant and traditional. There are designs to suit every style and taste. And there is something for those who want a mat that expresses part of their personality or lifestyle, including those who love their pets or who want to preserve the environment. The Special Days mats are ideal for homeowners who love to add that special touch to those days that have especially rich meaning for them.