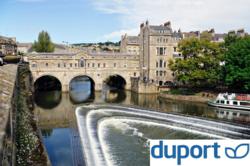 You don't have to dig too deep to see that innovation and the entrepreneurial spirit goes hand in hand with Bath. After all, our city is named after the bathing complex the Romans developed an age ago
(PRWEB UK) 21 April 2012
In research by UK company registrations agents Duport Associates Ltd, it was found that Bath hit a new high for company registrations in March 2012, with a total of 93 new companies.
"To have nearly 100 new businesses start up in just one month is quite amazing. The Coalition Government has provided a wide range of support to new business through schemes such as Business in You and the business mentoring site http://www.mentorsme.org. The Government has also made significant funding commitments through the Business Finance Partnership and the Regional Growth Fund. I am delighted to see that this has had such a positive impact in Bath" stated Don Foster, Liberal Democrat MP for Bath.
The data, compiled from the official Company Register, showed that Bath was the most popular area in Somerset for company formations in March 2012, breaking the previous record set in September 2003, and reached again in March 2006 with 87 start-ups formed with registered offices in the city.
"You don't have to dig too deep to see that innovation and the entrepreneurial spirit goes hand in hand with Bath. After all, our city is named after the bathing complex the Romans developed an age ago," added Mr Foster.
"Bath is quite rightly renowned across the world for its beauty, history and heritage, yet what is often overlooked is that Bath has stayed true to its innovative past and today possesses a burgeoning reputation for business and creativity - these figures highlight this fact."
Bath has long been a city known for its history, but with a new record of new companies formed in the city, this could be a great sign for Bath's future prospects.
Duport Associates Ltd is a leading UK company formation agent, operating in the UK for around 15 years. Duport registers around 10,000 new companies each year using its Companies House approved software. The Company Register which is maintained by Companies House contains public information about Limited companies and directors.