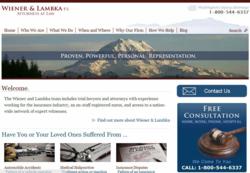 Renton, WA (PRWEB) April 23, 2012
Wiener & Lambka P.S. Attorneys at Law of Renton Washington have recently launched an updated website. While the aesthetics of the site have stayed similar to their previous site, the content and functionality have been expanded in line with newer technology to facilitate a superior user experience. For example, the site is now fully responsive, meaning that it adapts to mobile and tablet screen sizes.
Those who are experiencing confusion and stress due to a serious injury have a resource in wienerandlambka.com that will help guide them through the decision making process of not only finding an attorney but ultimately in getting back to a normal, healthy life. The goal of the site is for those seeking professional help with their injury claim to get all the information they need to know that they have found the right firm that will fight for them and that they will receive due compensation for their injuries.
It's easy to navigate through the site to get a good understanding of who Wiener & Lambka is, what they do, and how they help. There is useful information on many different types of injuries and the different areas of practice. This allows the injured to learn more about their specific case.
A potential client has several options for contacting the firm and they can also request that someone from the firm call them directly. For those that have a legal question, a simple form is readily accessible on every page. They can submit their question and Wiener & Lambka will promptly respond to their inquiry. These initial consultations are free of charge and representation is done on a contingent fee basis.
Bruce Wiener, James Lambka, and Andrew Herman have bios on the site expanding on their experience advocating for victim's rights. Their years of experience, testimonials from past clients, and the fact that over 65 million dollars in settlements have been obtained since 2002 confirm to whomever is seeking legal counsel for an injury that they have found a firm that they can be confident in.