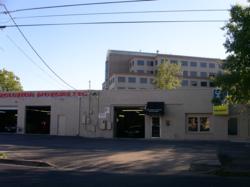 Joining the Bosch Service Network furthers our commitment to quality repairs and outstanding service.
Austin, TX (PRWEB) April 23, 2012
Austin auto repair specialist Revolution Motors is proud to announce its membership into the nationwide Bosch Service Network of top independent auto repair centers. Becoming an authorized Bosch Service Center signifies Revolution Motors' ongoing commitment to quality repairs and excellent customer service.
All Bosch Service Centers are specially trained in the proper service and repair of automobiles, utilizing high-quality Bosch parts and equipment. Bosch Service Centers handle everything from regular maintenance items such as oil changes and filter replacements to complex diagnostic services.
Revolution Motors is a local, family-owned and operated independent repair shop that specializes in auto repair for Audi, BMW, MINI, Mercedes, Saab, Volvo and VW. For over 30 years, Revolution has serviced Austin's community of European car owners and their German and Swedish cars. Continually striving to improve the customer experience is Revolution Motors' strategy for success.
Revolution Motors
809 Capitol Court
Austin, TX 78756
service(at)revolutionmotors(dot)com
(512) 453-5050