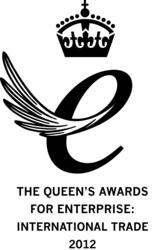 Seattle, WA (PRWEB) April 21, 2012
The Queen of England has awarded software developer Whizz Education the "Queen's Award for Enterprise: International Trade 2012" for the company's outstanding achievement in teaching children math around the world through its online math tutor, Math-Whizz, over the past three years. The renowned award is the most prestigious award that any UK company can receive. Previous winners of the award include Motorola, Nissan, and BBC Worldwide Ltd.
The award recognizes that Whizz Education has achieved substantial growth in overseas earnings and in commercial success. To win the award, Whizz Education's expansion had to be "outstanding."
Through Math-Whizz, Whizz Education is teaching children math around the world from the United States, Canada, Russia and the United Kingdom to South East Asia, the Middle East, South America and is even part of the Kazakhstan Consortium for e-learning. Whizz Education's mission is to inspire children to love math and to cultivate development of future business leaders across the world.
"We are honored and delighted that the Queen has recognized our hard work," said Ben Keogh, President of Whizz Education. "We are excited to celebrate this success with our clients."
Whizz Education will be presented with the award at a ceremony at Buckingham Palace. For more information about the awards please visit http://www.queensawards.org.uk
About Whizz Education, Inc.
Whizz Education, Inc., creator of the award-winning, online math tutoring program, Math-Whizz, is the leading provider of dynamic online math instruction and instructional resources for grades K-8. Whizz Education's personalized, interactive and collaborative approach to teaching math is raising math achievement for thousands of students in over 40 countries. By engaging students in entertaining challenges, individualizing the curriculum for each student, and involving teachers and parents in the process, Math-Whizz is changing the math education equation. For more information about Whizz Education, Inc. and the Math-Whizz suite of services, visit http://www.whizz.us.