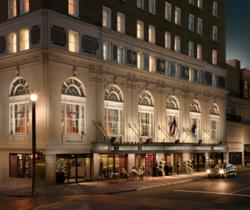 Charleston, SC (PRWEB) April 25, 2012
Keep Your Cool with the Francis Marion's Craft Beer Package. Your hotel room awaits in the heart of the historic city and your leisurely van ride is comfortable, fun and trouble free. Visit three breweries within 3-1/2 hours and get a behind-the-scenes glimpse and taste of what makes Charleston's craft beer explosion so exciting. Meet the lively people who make it all happen and enjoy samples of unique local brews from pale ales to porters and ESBs to IPAs.
Here's a perfect outing for family reunions, bachelor/bachelorette parties, girlfriend getaways or any fun social get-together of people who enjoy experiencing Charleston's flourishing beer scene first hand.
Your package includes accommodations and two tickets to Charleston Brews Cruise. Packages start from $199 per night and are based on availability. Pricing does not include taxes or parking. Package cannot be combined with any other package or promotion. See our website for more information. http://www.francismarioncharleston.com