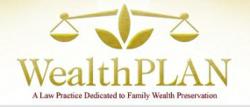 San Jose, CA (PRWEB) April 20, 2012
Attorney Francis Doyle of WealthPlan, an esteemed estate planning law firm has recently been awarded with an AV Rating by Martindale Hubbell®. The rating is given out to those that have demonstrated outstanding ability in their field in addition to a high level of moral standards. The ratings are determined by assessing the knowledge of the attorney, in addition to their experience, judgment, communication and analytical capabilities. Professional peers of the lawyers such as the judiciary and other bar members are who determines the Martindale-Hubbell® PEER REVIEW RATINGS™ including which professionals receive them and which rating they are given. The scale ranges from between 1.0 up to 5.0 with the highest rating being an AV® Preeminent™ which is achieved by a rating between 4.5 and 5.0.
Founding partner at the firm, Frank Doyle has practiced law for almost 30 years; developing and further growing his skill in every case he represents. As a specialist in taxation law, trust and probate law as well as estate planning with certification by The State Board of Legal Specialization, he thoroughly understands the ins and outs of estate planning cases. Before opening his own firm he was a shareholder for a large firm at which he also practiced in trust administration, trust litigation and tax and estate planning. He currently serves on the Diocese of San Jose Planned Giving Committee, the Santa Clara University Planned Giving Committee and the Silicon Valley Planned Giving council of which he is a former president. He was recently received the highest rating possible with an AV® Preeminent™ of 5.0 out of 5.0; a testimony to his outstanding legal aptitude.
The firm which is located in San Jose has been serving clients for over 15 years with their legal needs. The attorneys at the firm have notable backgrounds including years in tax law, probate and trust administration, estate planning, real estate transaction and more. Their comprehensive understanding of the law is a great asset to the claims that they handle. Over the years they have been able to enlist their skill for an outcome that is in the best interest of their clients. The legal team provides a high level of service to individuals, businesses, executives and more. Consulting with a San Jose estate planning lawyer is a wise step for any individual and through careful assessment and strategizing, their firm has helped many to prepare for the future. To find out more about the firm, take this opportunity to call their office or visit their site to speak with an attorney about how they can help. Contact a San Jose estate planning lawyer from the firm today.