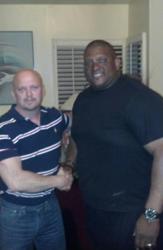 Dallas, TX (PRWEB) April 20, 2012
Former Dallas Cowboy players Derek Kennard and Nate Newton are partnering with SLEEPTEST.com on April 26, launching a nationwide campaign to raise awareness for sleep apnea.
Two events to raise awareness, will be held at the Renaissance Dallas Hotel, located at 2222 N. Stemmons Freeway, on April 26. Discussions will take place at 2:00 p.m. and 5:30 p.m. and are free to the public. A question and answer session will also be open to the press prior to the event, beginning at 1 p.m.
Elias Kalantzis, president of SleepTest.com, will speak at both events and be distributing 50 in-home sleep tests at no cost. In total $25,000 in free sleep tests will be provided to the community. "Knowing today's economic situation, this assessment may not be a priority to most individuals. The reality is, sleep apnea takes lives and that merits national awareness," Kalantzis said.
Kennard and Kalantzis both share personal experiences with fatality and sleep apnea. Dallas residents suffering from sleep apnea, who have trouble sleeping and may suffer from cardiac conditions, have a chance to catch a break now.
Sleep apnea causes a buildup of carbon dioxide in the blood which causes the heart to pump harder and this causes a significant amount of stress on the heart. When untreated, sleep apnea can increase the chances of stroke, high blood pressure, pulmonary hypertension, and even sudden death.
According to Neomi Shah, M.D., at Yale University, untreated sleep apnea for several years raises a person's risk of heart attack by 30 percent. Other effects from sleep apnea include: fatigue, depression, weight gain, and decreased reflex time due to the lack of energy.
"Dallas has a great opportunity here to spread awareness of this potentially deadly condition," Kalantzis said.
After the event, former Miss America Jineane Ford and a former Dallas Cowboy will sign autographs.
To qualify for a home sleep test, participants must register online at SleepTest.com/dallas or call 1-800-SLEEPTEST prior to the event.
###