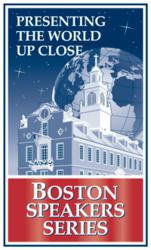 Boston, MA (PRWEB) April 22, 2012
The Boston Estate Planning law firm of Blake & Associates is proud to sponsor Boston Speakers Series at Boston Symphony Hall. Experience the ultimate in cultural engagement -- seven evenings of diverse opinions, profound insights and fascinating discussion on a broad scope of issues. Pulitzer Prize and Nobel Peace Prize winners, world leaders, statesmen, distinguished journalists, authors and other celebrated personalities will enlighten and inspire you.
WHAT IS THE BOSTON SPEAKERS SERIES?
The Boston Speakers Series is a series of seven different lectures, on seven Wednesday evenings, at Boston Symphony Hall. The 2012-2013 series starts in October and concludes in April.
Our distinguished speakers share with the audience their unique experiences and perspectives on a wide variety of topics - from world affairs & politics, to history & the environment, to books & authors, to business & economics and the Arts. And for those who wish to ask the speaker questions, an exciting question and answer session follows each lecture.
SPEAKERS INCLUDE:
PRESIDENT BILL CLINTON
Founder of the William J. Clinton Foundation and 42nd President of the United States
April 24, 2013 - Wednesday, 8pm
JEANNETTE WALLS
Bestselling Author of The Glass Castle
October 24, 2012 - Wednesday, 8pm
LISA LING
Journalist and Host on National Geographic & the Oprah Winfrey Network
November 28, 2012 - Wednesday, 8pm
P. W. SINGER
21st Century Warfare Expert
January 16, 2013 - Wednesday, 8pm
ERSKINE BOWLES
Co-Chairman of the National Commission on Fiscal Responsibility and Reform
February 20, 2013 - Wednesday, 8pm
VICENTE FOX
President of Mexico (2000-2006)
March 20, 2013 - Wednesday, 8pm
NANDO PARRADO
Miracle Survivor of the Infamous Plane Crash in the Andes Mountains
April 24, 2013 - Wednesday, 8pm
WHAT TO EXPECT ON THE NIGHT OF A LECTURE?
Each lecture opens with the moderator making a few welcoming remarks and then introducing the evening's speaker. The speaker then delivers his or her comments until approximately 9pm. Quietly during the lecture, at 8:25pm and again at 8:35pm, ushers walk down the aisles to collect questions from the audience, written on question cards that are available in the evening's program. When the speaker is done, the moderator returns to the stage and asks as many of the audience's questions as possible. The evening concludes at approximately 9:30pm.
Blake & Associates is a Boston based Estate Planning and Asset Protection law firm located in Boston's historic Old City Hall. Consulting with tax experts, CPAs and financial planners in developing complex estate plans in order to protect high net worth estates and closely held businesses from unwanted tax liability.