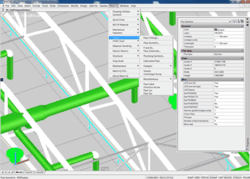 Our goal is to offer Students and Teachers a solution that's perfect for learning all aspects of CAD...
Bend, OR (PRWEB) April 24, 2012
Established in 1992, ASVIC has been is focused on servicing their Engineering Software add-on named Mech-Q. Recently ASVIC has released a standalone CAD Program called AViCAD which is also available for students, teachers, and schools – including home-schoolers.  
The AViCAD Academic release offers discounts of up to 60% and includes a Engineering Software pack built-in to the menu system.  In addition 3D tools and a rendering application are also included. Since its first release in 1995, Mech-Q has grown to over 25,000 active users worldwide.
Home-schoolers and students can visit http://www.avicad.com to download and try the CAD Program out before purchase – according to ASVIC, AViCAD offers 95% of the features users will find inside AutoCAD®.
A printable learning PDF is also made available to homeschool students and teachers. Recommended AutoCAD® books will also work well with AViCAD as most menus and commands are exactly the same.
AViCAD is a popular AutoCAD® Alternative that offers both 2D / 3D CAD drafting. It's is base on proven IntelliCAD CAD engine thats been used worldwide since 1993. Each year the it's features are integrated back into AViCAD.
Victor Abela explains "Learning AViCAD is just like learning AutoCAD® due to the fact that almost all of it's features are the same as AutoCAD®. The CAD Software even contains features that AutoCAD® does not offer such as Mech-Q and Architectural tools."
Victor continues "Our academic products are identical to regular commercial versions. Our goal is to offer Students and Teachers a solution that's perfect for learning all aspects of CAD... and more importantly one they can easily afford."
As an Educational Institution, Student, Faculty or Staff member, you are eligible to purchase legal, licensed software package. Proof of academic status is required.
Academic Software prices and additional information is listed on the AViCAD website at http://www.avicad.com/academic-discounts
AViCAD's Website : http://www.avicad.com Phone: 888-271-7121
Headquartered in Bend, Oregon, AViCAD is subsidiary of ASVIC.com. ASVIC is a developer and distributor of CAD-based software products for Engineers and Architects and is located in New South Wales, Australia. Offices are also located in Europe at asvic.au.