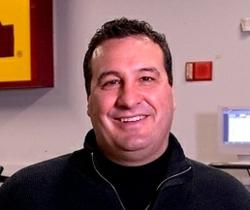 "I look forward to working with the rest of the Advisory Board to find ways to improve the WellBalance program so that more people can overcome the ill-effects of obesity, and a sedentary lifestyle," commented Dr. Donald Dengel
Asheville, NC (PRWEB) April 23, 2012
Dr. Donald Dengel, Associate Professor in the School of Kinesiology & Director of Human Performance Core and Densitometry Services in the Clinical and Translational Science Institute at the University of Minnesota, has been named to the Scientific Advisory Board for WellBalance, a leading health organization that runs summer weight loss camps & community outreach programs for adolescents aged 10 – 20.
Dengel has agreed to provide insights to WellBalance regarding the physical health improvements that can be gained through exercise, and the side effects of obesity that can be minimized through leading a healthy lifestyle. Dengel is an expert in the areas of using lifestyle modifications as a treatment for metabolic syndrome in overweight children and adults.
"Dr. Dengel is a top-notch researcher who had dedicated his professional life to finding ways to help people obtain a higher quality of life," said John Taylor, Vice President of Programs for WellBalance and a celebrity fitness expert. "Dr. Dengel's knowledge regarding lifestyle modification, and physiological improvements people can achieve through exercise is information that can help our clients meet their health goals and improve their long-term quality of life."
Dr. Dengel is also renowned for his research on the effects of weight loss and physical activity on the body's use of carbohydrates and blood vessel function, and has earned the distinction as a Fellow of the American Heart Association and the American College of Sports Medicine.
"WellBalance's main goal is to help children and their families learn how to lead a healthier lifestyle" said Dengel. "I look forward to working with the rest of the WellBalance Advisory Board to find ways to improve the program so that more people can overcome the ill-effects of obesity, and a sedentary lifestyle."
Dr. Dengel earned his Ph.D. in Exercise & Applied Physiology from the University of Georgia. He also earned an M.A. in Exercise & Applied Physiology from Ball State University, and B.S. degrees in Physical Education and Health Education from the University of Wisconsin-LaCrosse. Dr. Dengel also had a Post-Doctoral fellowship at the University of Maryland that was funded by the National Institute of Aging.
WellBalance (http://www.WellBalance.com) designed the ME Plan to Motivate & Educate on what medical research shows works for sustainable fitness, weight loss, and health success. Founded by professionals and guided by experts who have led some of the largest behavioral health, mental health, and treatment programs in the country, WellBalance is working to become the leader with a focus on improving an individual's overall health. WellBalance developed the WellBalance Health Score© to rate a person's overall medical, emotional, and fitness health status as well as show a person's progress towards health norms. WellBalance operates summer camps, local programs, and fitness programs for adults. For additional information please visit http://www.wellbalance.com or call (800) 975-0435.
# # #